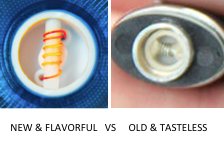 'You will be amazed at the difference,' says company Director and Industry Founder, Dr. Vapor. 'We have worked for years to introduce ceramic heating vaporization technology that removes any traces of impurities.'
San Francisco, California (PRWEB) October 22, 2013
Revolutionary Ceramic-Core Heater announced for portable vaporization devices from industry founder, Vape-Pen, Inc.
Vape-Pen, Inc®, inventor of the original Vape Pen and The DabblerTM portable herbal vaporization devices, announces another innovation in vaping technology with their new Ceramic-Core Heaters for vaporization of herbal waxes and oils. Made from the highest-grade aerospace materials and using a ceramic core instead of a fiber or metallic one, this new heater provides a much cleaner experience and elevates the true flavor of your herbal concentrate materials. The vaping experience has reached a new high.
"You will be amazed at the difference," says company Director and Industry Founder, Dr. Vapor. "We have worked for years to introduce ceramic heating vaporization technology that removes any traces of impurities that taint the true flavors of your expensive concentrates. Typical wire heaters also do not provide the exact level of precise temperature control that our microprocessors demand. Purists Rejoice! Our desire to keep improving the vaping experience led to this ceramic-core heater advancement. We receive letters from medical cannabis patients from all over the country every day that tell us that they tried the inexpensive vape pens and then wish they bought The Dabbler to start with," he added.
When purchasing a vaporizer, you will notice the types of heating elements vary, depending on the make and model you choose. The heating element is a very important part of any vaporizer, as it is in direct contact with vaporizing material as it creates the vapor. You want to ensure the heating element is accurate and precise so it heats at the exact temperature that is required. The new Vape-Pen Ceramic-Core Heater is designed to work with all other vapor pens that accept a standard 510 thread. It works perfectly with Vape Pen's proven temperature controlled power system. Vape-Pen's latest innovation raises the bar for the industry once again.
For more information, visit: http://www.ceramic-core.com.
Wholesale orders: supplychain(at)ceramic-core(dot)com