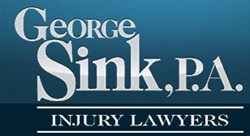 North Charleston, SC (PRWEB) October 17, 2013
The Charleston City Council recently passed a new law which bans texting while driving in the city of Charleston, South Carolina (Live 5 News, 10/9/13). The 30 days following the law's passage will be an informational period in which authorities will focus on informing the public about the new law. Next, a 30-day warning period will go into effect before officers begin handing out citations.
Specifically, the law prohibits "viewing, taking, or transmitting images, playing games, or composing, sending, reading, viewing, accessing, browsing, transmitting, saving or retrieving email, text messages, or other electronic data."
"We see far too many accidents caused by distracted drivers," said Attorney George Sink of George Sink, P.A. Injury Lawyers. "I'm optimistic that this new texting while driving ban will discourage this dangerous driving practice and decrease the number of distraction-related accidents in Charleston."
After the 30-day informational period and the 30-day warning period, police officers can begin citing drivers who are caught texting while driving. To support these citations, law enforcement officers can even subpoena a driver's cell phone records. Fines for violators can reach up to $100 with the addition of court fees.
The passage of this law comes just after a similar texting while driving ban in Mt. Pleasant. In the coming months, texting and driving could be banned throughout the rest of the Charleston metro area. The law does not prohibit talking on a cellphone while driving, although this is widely viewed as one of the more dangerous types of driver distraction.
George Sink, P.A. Injury Lawyers represents victims of auto accidents throughout South Carolina. If you or someone you care about was involved in an accident caused by a texting driver, you can contact a Charleston car accident attorney at the firm to help you seek justice against violators of this new law.