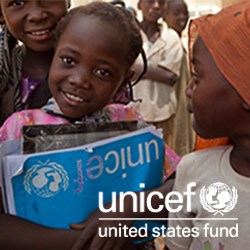 New York, NY (PRWEB) October 18, 2013
The U.S. Fund for UNICEF and Parham Santana – The Brand Extension Agency today announced a representation agreement with BrandSlam, Parham Santana's licensing division. BrandSlam's holistic approach combines traditional licensing representation services with the resources and capabilities of a premier brand strategy and creative firm. Parham Santana will manage the development of products with a cause-related message, helping the U.S. Fund for UNICEF to raise funds and further their mission to reach a day when ZERO children die from preventable causes and every child has a safe and healthy childhood.
From the introduction of the first UNICEF Christmas card in 1949 to pioneering cause-related marketing campaigns with the world's most successful companies, product-based fundraising has generated valuable funds and promoted UNICEF's cause and mission to millions of individuals. UNICEF currently has an extensive licensing program with Hallmark for greeting cards and related categories sold at retail stores including Pier 1 Imports and Barnes & Noble. They also have a long history of selling home products through both their catalog and website.
"Consumers are increasingly seeking a sense of purpose and integration of their personal values into their everyday purchasing choices. The U.S. Fund for UNICEF's new licensing opportunities will enable more consumers to make meaningful contributions to UNICEF's causes while doing their weekly shopping," says Aaron Spiegeland, Vice President of Strategy and Licensing at Parham Santana and head of its BrandSlam division.
Parham Santana will partner with the U.S. Fund for UNICEF to develop a strategy to find new product categories that align best with the vision and goals of UNICEF. They will then work hand-in-hand to develop a program look and find best-in-class partners.
"We are excited to be working with Parham Santana and are confident that their expertise in brand extension will lead to success in expanding the UNICEF licensing program throughout the U.S.," says Wendy Miller, Director of Products for the U.S. Fund for UNICEF.
About Parham Santana
Parham Santana (http://www.parhamsantana.com), The Brand Extension Agency helps national brands extend and restage in the retail world. Positioning and brand extension strategies for clients have guided long-term multi-billion-dollar retail programs for thousands of products at major national retailers in every channel of distribution – including Walmart, Kohl's and Bed Bath & Beyond. Parham Santana's clients are among the worlds leading brands, including Food Network, Better Homes and Gardens, Discovery Channel, and American Girl.
About U.S. Fund for UNICEF
The United Nations Children's Fund (UNICEF) works in 190 countries and territories to save and improve children's lives, providing health care and immunizations, clean water and sanitation, nutrition, education, emergency relief and more. The U.S. Fund for UNICEF supports UNICEF's work through fundraising, advocacy and education in the United States. Together, they work toward the day when zero children die from preventable causes and every child has a safe and healthy childhood. For more information, visit http://www.unicefusa.org.