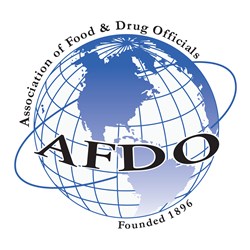 York, PA (PRWEB) October 17, 2013
The Association of Food & Drug Officials (AFDO) announces the implementation of a newly developed 'Food Protection Program Portal" which is available to all food safety regulatory officials.
The portal is located on the AFDO websites homepage http://www.afdo.org and is available to food safety regulatory officials regardless of their AFDO membership status. The individual must obtain a user name and password in order to access into the information portal.
The information portal is designed to provide food safety regulatory officials with useful information concerning food safety regulatory programs, pending and/or recently passed state legislation relating to food safety. Currently the portal contains license fees, inspection frequency policies, inspector to establishment ratio, 2012 and 2013 enacted state food safety laws, proposed state food safety legislation, and updates on federal legislation.
The portal will also provide officials with timely and valuable resource information. Resources currently available on the portal include a Subject Matter Expert (SME) Registry, Topical Index for Laws and Guidance, Directory of State and Local Officials, the Rapid Response Team (RRT's) Best Practices Manual (2013), and the Issues and Concerns with Imported Foods guidance document.
The Topical Index for Laws and Guidance currently has over 700 documents that can be easily accessed by topic or state.
About AFDO
The Association of Food and Drug Officials (AFDO), established in 1896, successfully fosters uniformity in the adoption and enforcement of science-based laws, rules and regulations regarding food, drugs, medical devices, cosmetics and product safety by either drafting regulatory rules or commenting on government proposals. By developing a broad base of support for new approaches, AFDO has become a recognized voice in determining the rules and shape of the regulatory playing field of the future. The consensus that AFDO develops is key to advancing uniform laws, regulations, and guidelines that result in more efficient regulation and less confusion among industries in the marketplace. AFDO develops support for its positions by interfacing with high-level regulatory officials, industry representatives, trade associations, and consumer organizations. This effort continues to have a significant impact on regulations at the federal, state and local levels.
For more information, visit http://www.afdo.org. Inquiries about AFDO can be directed to AFDO Executive Director Joseph Corby.