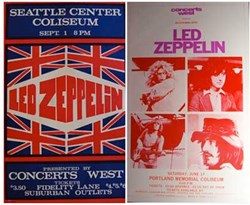 The 1970 concert poster features a Union Jack flag while the 1972 Zeppelin Seattle Coliseum poster a more traditional boxing style rock concert poster.
San Francisco, California (PRWEB) October 18, 2013
Andrew Hawley, from Vintage Rock Posters, Inc., announces his search for original 1970 Led Zeppelin Seattle Coliseum Rock n Roll concert posters. This would be Les Zeppelin third concert in the Seattle area. According to Hawley, "Led Zeppelin frequented Seattle and the northwest in the late 60s and early 70s. They played Seattle Pop Festival and the Aqua Theater a year earlier. They came back to the Seattle Coliseum in 1972."
Hawley continues, "The 1970 concert poster features a Union Jack flag. The concert was promoted by Concerts West. The 1972 Zeppelin Seattle Coliseum poster was designed by Trane Printing. The poster was a typical boxing style poster featuring block sized photos of each band member. The 1972 poster was also used for the Zeppelin Tucson and Portland shows."
Hawley is searching for this poster and other original 1969 to 1973 Led Zeppelin concert posters. Hawley pays $3,000 cash for these vintage concert posters. If you happen to have one these relics, please call 310-346-1965 or email Hawley at andrew(at)vintageconcertposterbuyer(dot)com.