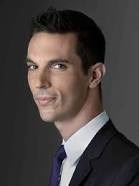 Salt Lake City, UT (PRWEB) October 17, 2013
As part of Salt Lake Community College's Speakers Bureau Series, Ari Shapiro, NPR's White House correspondent, will talk about covering the justice department, Mitt Romney's presidential campaign and the White House.
Salt Lake City is one of several speaking stops Shapiro is making before he leaves his White House post to join NPR's international desk as the London correspondent in January.
KUER's RadioWest host, Doug Fabrizio, will moderate a question and answer session.
Shapiro has been at NPR since 2003, including five years as a justice correspondent covering national security and counterterrorism. He's been at the White House since 2010. Last year, he led NPR's coverage of Mitt Romney during the U.S. Presidential primary and general elections.
Shapiro's stories appear on NPR's All Things Considered and Morning Edition. He is also a regular guest on CNN, MSNBC and PBS. The award-winning journalist, who was the first NPR reporter promoted to correspondent before age 30, has traveled extensively overseas, including to Afghanistan, Iraq and Africa.
Shapiro also moonlights as a guest singer with the music group Pink Martini.
When: Monday, Oct. 21, at 7 p.m.
Where: The Grand Theater at Salt Lake Community College, 1575 S. State Street, Salt Lake City.
Cost: Free, though tickets are required in advance.
Tickets can be picked up at the Grand Theater or online at: tinyurl.com/AriShapiroEvening.
About the College: Salt Lake Community College is an accredited, student-focused, urban college meeting the diverse needs of the Salt Lake community. Home to more than 62,000 students each year, the College is the largest supplier of workforce development programs in the State of Utah. The College is the sole provider of applied technology courses in the Salt Lake area, with 13 sites, an eCampus, and nearly 1,000 continuing education sites located throughout the Salt Lake valley. Personal attention from an excellent faculty is paramount at the College, which maintains a student-to-teacher ratio of less than 20 to 1.
# # #