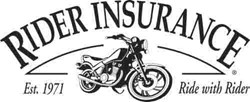 Springfield, NJ (PRWEB) November 01, 2013
Rider Insurance is proud to announce that starting November 1, 2013, it will provide Motorcycle and ATV insurance coverage to Michigan residents. Offering some of the best riding in the country, Michigan is a great addition to Rider's portfolio of states, including Delaware, Indiana, Maryland, New Jersey, Pennsylvania, Ohio, Virginia and West Virginia. Founded in 1971 by motorcycle enthusiast, Harry Bleiwise, and built on his dedication to riding, Rider is currently the largest motorcycle insurance provider in New Jersey, and the only carrier serving the motorcycle community exclusively.
Rider Insurance prides itself on offering competitive rates, excellent coverage and hassle-free service. Its representatives are committed to delivering an unparalleled level of customer care, one that will give riders the freedom to embrace the sport of riding. Rider provides coverage regardless of income or education level, with no credit checks. A number of discounts are available, as well as an attractive accessories package. Coverage options include liability only as well as a physical damage package with a variety of liability limits and Med Pay options. Rider insures a wide range of motorcycles, including:
Touring Bikes
Sport Bikes
Scooters
ATVs
UTVs
Enduro
Road/Trail
Motocross
Reconstructed
Salvaged
In addition to providing insurance coverage to the motorcycle community, Rider feels a responsibility to give back to the community. Through the Rider Insurance Bleiwise Family Charitable Foundations and general corporate sponsorships and donations, Rider has been able to support many organizations. For the list of charitable contributions, visit http://www.rider.com.
For more information on Rider Insurance or to get a quick quote, call 800-595-6393 or visit http://www.rider.com. "Like" Rider Insurance on Facebook and follow us on Twitter for all the latest updates and announcements.