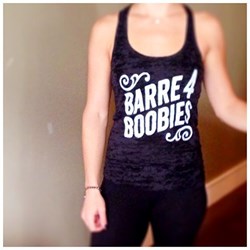 Local Barre's goal is to provide an experience in which local people can do something wonderful for themselves while doing something incredible for others in the community.
Hoboken, NJ (PRWEB) October 18, 2013
Local Barre, a unique fitness center in Hoboken that builds core strength without bulky weights or bossy personal trainers, is holding a special class each Saturday during October. Local Barre will donate 100% of its proceeds from these events to support Breast Cancer Awareness non-profit organizations.
Local Barre, an organization that believes in helping people get healthier by getting their wiggle on, is taking time during October to give to local charity as well. Each Saturday during October, Local Barre offers a special class in order to raise money for breast cancer awareness and support. For $30, guests can experience an invigorating exercise experience while giving to a great cause. For additional donations guests can also take home a commemorative Barre 4 Boobies Tank.
Open to beginners and all levels of experience, Local Barre fuses Yoga, ballet fundamentals, stretching and lightweight fitness accessories to help you achieve a lean, flexible body. Local Barretenders are specially trained to serve our personally crafted fitness elixir. Infused with hip music, low-impact exercises and a positive motivational environment, one taste will leave you feeling youthful and thirsting for more.