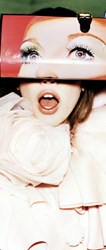 Toronto, ON (PRWEB) October 22, 2013
Women in the workforce today often face unique challenges. One of these issues is the fact that stress and long workdays can take a toll on the eyes. "Tired eyes" are a big problem for women, especially professionals who need to make a good impression on clients and colleagues. When women look for solutions to this problem, they are often slammed with advertisements for expensive and invasive procedures. There has been a sharp rise lately in the amount of people who are getting plastic surgery, and they're often shocked at the unnatural looking results. The envisage facial exerciser has been specially designed from the ground up to gently exercise muscles beneath the skin. This process takes only five minutes a day, and the exerciser is a tool that can easily be held in a purse or pocket.
Exercises for facial muscles have been around for decades, but the media spotlight has yet to truly shine on this treatment. It is only recently that people are noticing the results and smooth skin of those who faithfully carry out their treatments daily. Canada's Fashion magazine is one of the first major news outlets to report on this tool as an inexpensive and viable beauty treatment. The exerciser is mentioned as a fantastic tool with which to fight facial lines in the October issue. With 1.8 million readers, and the biggest Canadian magazine Twitter following, many professional women will be discovering the envisage facial massager and ordering their own. To find out more about this product and it's professional (and personal) benefits, you can visit the envisage website. To contact the creators of the facial exerciser, call 1-855-924-4343.