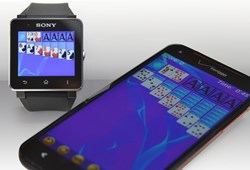 Saint Louis, Missouri (PRWEB) October 22, 2013
Tesseract Mobile today announced that their industry-leading Android solitaire app can now be played on your watch. They have developed a smartwatch extension for the Solitaire MegaPack and Solitaire Free Pack that will allow you to play Klondike (the classic and most popular version of solitaire) on the Sony Smartwatch and Sony Smartwatch 2.
Gaming has come a long way. Solitaire for hundreds of years was played using a deck of cards. It saw a renewed sense of popularity when it was a factory installed game on the first computer you purchased, and over time has now moved to a device that was once only used for telling time, your watch!
"Now a fun and entertaining game of solitaire is always within reach! Our Smartwatch Solitaire has a redesigned user interface, making it easier to use so game play is a seamless experience between the Smartwatch wearer and the game," says Joshua Frank, co-founder of Tesseract Mobile. "In addition to developing this gaming app for a new device, we have also implemented some great new features that further benefit the user experience."
To develop a game that will played on such a small screen it was necessary to make some drastic updates for better playability. The card faces have a revolutionary new style that adapts if the card is exposed or partially concealed which allows the exposed cards to look sleek and stylish with a minimalist design to reduce visual "clutter", while the concealed cards can still be identified by rank and suit.
"Designing for the Smartwatch had its own challenges, but we developed a simpler UI to make the game easier to use and more fun to play," says Laura Ockel, co-founder of Tesseract Mobile. "Perhaps the most impressive feature of all is that the game on your watch syncs with the solitaire app on your paired Android device. This means you can start a game on your watch, and then finish the same game later on your phone or tablet."
From a 52-card deck to a desktop to your wrist, the game of solitaire has certainly come a long way, and the team at Tesseract Mobile is continuing to push the development envelope so that we can all enjoy this classic game of cards from any device at any time of day.
Tesseract Mobile is a St. Louis-based Android software development firm that creates free apps and games for Android mobile phones and tablets. They also develop free apps for wearable devices including Google Glass and the Sony Smartwatch. For more information, please visit them at http://www.tesseractmobile.com, or https://www.facebook.com/pages/Tesseract-Mobile/307972625999470.