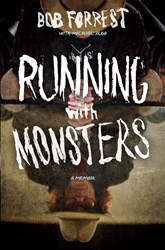 Pasadena, CA (PRWEB) October 21, 2013
Pasadena Recovery Center is pleased to welcome Bob Forrest to their ground-breaking speaker series on Wednesday, October 23rd, at 12pm, in celebration of the release of Bob's new critically acclaimed memoir 'Running with Monsters'. Bob Forrest and Pasadena Recovery Center have a strong relationship - Bob played the integral role of Head Counselor and Program Manager of Celebrity Rehab Seasons 4 and 5, which were filmed at Pasadena Recovery Center.
Bob will be speaking at 12:00pm about his past struggles with addiction as a musician in the heart of the LA rock scene, as well as his incredible tale of recovery. Immediately following the talk Bob will be doing a book signing, no copies will be available for purchase so bring your own. Pasadena Recovery Center's Treatment and Recovery advocate, actress Mackenzie Phillips, will be hosting the event.
Pasadena Recovery Center Speaker Series hosts amazing authors, entrepreneurs, celebrities, and experts to talk about their personal experiences with addiction and the way it has affected both themselves and the people around them.
PASADENA RECOVERY CENTER is a 98-bed drug and alcohol treatment center located in the charming historic district of Pasadena that was co-founded in 2000 by renowned psychiatrist Dr. Lee Bloom, his daughter, Criminal Defense Attorney Alison Triessl, and his son, Michael Bloom. Known for its 12-step based comprehensive treatment program, Pasadena Recovery Center is dedicated to providing compassionate, comprehensive, and affordable care to those suffering from chemical dependency. 1811 N Raymond Ave Pasadena, CA 91103.
Bob Forrest is a Lead vocalist and lyricist for LA bands Thelonious Monster and The Bicycle Thief. Bob is a certified addiction specialist and the former Chemical Dependency Program Director at Las Encinas Hospital. After his successful battle with drug addiction, Forrest went on to launch Hollywood Recovery Services in 2010 along with co-founder Shelly Sprague. Bob Forrest was the subject of the documentary Bob and the Monster, and the writer of the critically acclaimed memoir 'Running with Monsters'. Bob has been sober for over 15 years and is the father of 2 sons.