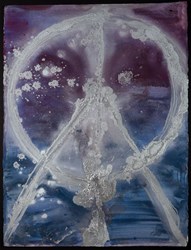 Using Art, state of the art technology and media, the Peace Angels Project brings forward the concept of choice, to go to war or to create. - Artist Lin Evola
San Francisco, CA (PRWEB) October 21, 2013
This continued evolution of Artist Lin Evola's Peace Signs brings full circle the process of using materials of mass destruction to create artistic symbols of peace
"These works hold in their iridescent Peace Signs the repurposed stainless steel from decommissioned nuclear weapons – the first of her work to include weapon's metal in a two-dimensional format," said Derek Cabaniss, Managing Principal. "To witness the symbol of peace created from broken-down weapons is truly powerful."
"Integrated into the art materials, the weapons metal transform the image from one of sheer beauty to a powerfully integrated symbol of inspiration," says Artist Evola.
For additional information please visit http://www.reverie-arts.com and/or our Amazon Art
_________________________________________
About Lin Evola
Artist Lin Evola (b. March 27, 1950) is an internationally acclaimed American Contemporary Artist who has used her career as a platform to bring attention to the disturbing proliferation of violence, which occurs in our neighborhoods and among nations. She holds a Master of Fine Arts degree from San Francisco Art Institute and has had solo exhibitions in museums and galleries in London, Paris, Monaco, New York, Philadelphia, Chicago, Los Angeles and San Francisco. Art historians have declared her work to be on the level of Leonardo da Vinci, Joseph Beuys and Robert Rauschenberg, and she is the recipient of numerous honors and awards, including having been declared Artist Life Member of New York City's National Arts Club.
In 1992, Evola created the Peace Angels Project. Using the "swords to ploughshares" model, Evola requests surrendered weapons from communities and countries through law enforcement and government agencies, melts the weapons down and uses the melted metals to cast sculptures which she calls Peace Angels. Simultaneous to the weapons requests, she engages the media to transmit the message that the public may want to consider how to balance the need for protection against the desire for peace.
About Rêverie Arts
Rêverie Arts San Francisco holds true to its brand and mission by striving to host and foster a harmonious working relationship with its talented body of artists to create challenging and rousing series of artworks. The gallery also cultivates a sociable and creative dynamic with its partners in private events to create a space for discussion, creativity, philanthropy and further collaboration within the city of San Francisco.
The gallery represents early to mid-career and established artists throughout North America, Europe as well as Asia and will focus on mixed media, painting, photography and sculpture.