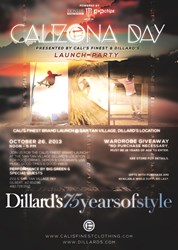 Los Angeles, CA (PRWEB) October 19, 2013
Cali's Finest Clothing has been chosen by Dillards West Division to become one of the premier brands to debut at their store. Dillards offers the nation's hottest brands and the latest styles all in one spot, with over 300 stores in the United States alone. Now they have picked up California's newest leading street, skate, surf and snow brand: Cali's Finest.
Dillards is set to launch this new and exciting brand October 26th at one of their flagship stores: San Tan Village in Gilbert AZ. The event will feature some live skate demos, music, and will be co-hosted by Monster energy, Pop-Chips, and Honest Tea, we will be rockin' the house from noon to 5pm, Saturday, October 26th! Be there!!!
Unlike any other apparel line, Cali's Finest has incorporated action sports and street wear while channeling reggae, hip hop and rock styles into one brand that truly exemplifies the California lifestyle. The Cali's Finest line includes graphic T-shirts, jackets, hoodies, board shorts, walk shorts, hats and button down woven shirts for men. The idea behind the brand is to promote the California lifestyle because of its instant global recognition. Cali's Finest creators Shapiro and Greenberg refer to California living as the "lifestyle leading the world."
"We are super pumped that Dillards has recognized our brand as the next big thing, we are already blowing through inventory in Tilly's stores nationwide, and now that people can get our premier lifestyle brand at selected Dillards stores, we couldn't be happier!" states Shapiro.
Cali's Finest is growing at a rapid pace, which they attribute to the fact that their apparel brings a new element of something different to the fashion world. Their innovative and creative designs, classic themes, and quality fabrics have gained them fans worldwide. Made in the same factory and printers as some of the top skate/street/surf brands in the world, Cali's Finest is a force to be reckoned with. Cali's Finest threads are already in select stores up and down the west coast, in the I Love LA store at LAX International Airport, and online at DrJays.com and Journeys.com. Globally, the brand of California is already a hot ticket item in Brazil, Japan, Canada and parts of Western Europe, as well as Australia and New Zealand.
Celebrities of all kinds have been sporting the Cali's Finest trend proving that this brand truly appeals to everyone. The list of Cali's Finest celebrity fans include a sampling of the who's who of athlete's, musicians and TV personalities like Ryan Sheckler, Nijah Huson, Snoop Lion (Snoop Dogg), Colin Kaepernick, Too $hort, Sergio Santoro, Cameron Padilla, Justin McBride, Hank Baskett, Kendra Wilkinson, Luke Walton and Jerome Williams. Now you can shop at Dillards for exclusive styles and the newest designs from Cali's Finest. For more information on the brand go to http://www.CalisFinestClothing.com or follow @Calis_Finest on twitter.
###
Cali's Finest: (http://www.calisfinestclothing.com) Cali's Finest is the premier lifestyle brand that encompasses street wear, skate and the coastal surf culture, infused in one. The brand is heavily influenced and deeply rooted by various music genres and artists alike, that stem from reggae, hip-hop and rock. Bridging the gap of Northern and Southern California, Cali's Finest has united the state as one to make "The brand of California!" The innovative art and culture that influences fashion and trends worldwide, has enabled CF to utilize all of these resources available to represent the culture to its FINEST!