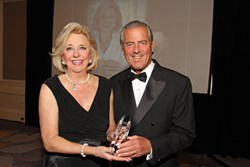 (PRWEB) October 21, 2013
Jenny Pruitt, CEO and Founder of Atlanta Fine Homes Sotheby's International Realty was presented with the Lifetime Achievement Award from Who's Who in Luxury Real Estate at the 18th Annual Luxury Real Estate Fall Conference in Atlanta at The Ritz-Carlton, Buckhead. The conference, held Oct. 6 – Oct. 9, brings members together to present and discuss market trends, innovative technology solutions and industry news.
The Lifetime Achievement Award is a prestigious award given twice annually to a Luxury Real Estate member who is recognized as a legend in the real estate industry and displays excellence throughout his or her career.
Celebrating four decades of success in the residential real estate arena, Pruitt is respected nationally as a visionary leader, community advocate and benefactor.
In 1988, Pruitt established Jenny Pruitt & Associates, REALTORS®, and directed its growth to annual sales over $1.5 billion, six metropolitan offices and a roster of over 450 accomplished agents. More than 12 years ago, the firm was acquired by Berkshire Hathaway's subsidiary HomeServices of America. Pruitt then founded Atlanta Fine Homes Sotheby's International Realty in 2007, which has grown to more than 255 agents in three offices serving Metro Atlanta and beyond. The company is projected to surpass $1 billion in sales this year.
In addition to the Luxury Real Estate Lifetime Achievement Award, Pruitt is the recipient of significant honors including the E.A. Isakson Award from the Atlanta Board of REALTORS® which is given to an industry leader who has demonstrated lasting benefit to the community and real estate profession. In 2012, Pruitt was the recipient of the Luxury Real Estate Extraordinary Philanthropist award. She has also been accorded the Georgia Small Business Person of the Year Award and inducted into the Business Hall of Fame at Georgia State University's J. Mack Robinson College of Business.
Dedicated to helping Atlanta maintain its exceptional quality of life, Pruitt serves as a Director of the Buckhead Coalition. She is also a past President of the Atlanta Board of REALTORS®. Pruitt's dedication to humanitarian support is an integral part of her volunteer commitment. These efforts include helping the economically challenged by building homes for Habitat for Humanity. As a third generation Atlantan, Pruitt is active in the Atlanta History Center's Board of Trustees, the Board of Councilors for the Carter Center and the Metro Atlanta Chamber of Commerce.
About Atlanta Fine Homes Sotheby's International Realty
Founded in 2007 by Jenny Pruitt and David Boehmig, Atlanta Fine Homes Sotheby's International Realty, is a Metro Atlanta-based residential real estate firm that offers personalized service and long-term relationships. Atlanta Fine Homes Sotheby's International Realty focuses on delivering a thoughtful, engaged approach when it comes to serving the real estate needs of its clients. Through its affiliation with the prestigious Sotheby's International Realty brand, Atlanta Fine Homes Sotheby's International Realty explores innovative and effective ways to offer million-dollar marketing for homes in all price ranges. Sotheby's International Realty is a licensed trademark to Sotheby's International Realty Affiliates LLC. Affiliations in the system are granted only to brokerages and individuals meeting strict qualifications. Sotheby's International Realty Affiliates LLC supports its affiliates with a host of operational, marketing, recruiting, educational and business development resources. Each office is independently owned and operated. Equal Housing Opportunity. For more information, visit AtlantaFineHomes.com.