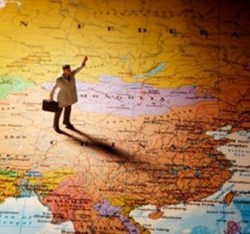 Research indicates that getting informed and well prepared to move to internationalization highly increases the chances of success.
(PRWEB) October 22, 2013
Education is where efforts should start and the International Trade Training Center (ITCT) has created a resourceful program filling the void that SMEs experience when struggling to move internationally.
The National Small Business Association published a report indicating that education is where efforts to get SMEs exporting should start: 46% of non-exporters said they don't want to risk going global because they just don't know where to start, while 49% said the government lacks the resources to educate SMEs to understand complex international trade rules. Read more.
For instance, FTAs, meant to be the streamline access to foreign markets, make a significant positive impact on business exports only when the rules are well understood and regulations are followed and met; however, not being educated to comprehend legal, fiscal and financial aspects of FTAs and overall international trade rules could become the worst exporting headache, regardless of governmental efforts to helps SMEs doing business abroad.
For SMEs, navigating the complicated ocean of foreign trade governance is extremely difficult, even more when rules and regulations differ from one country to the other. Identifying the cultural barriers, understanding the local market dynamics, establishing distribution channels and after-sales service points abroad is among the most difficult tasks when starting to move internationally.
Financing is also extremely important and sometimes overlooked, according to a Small Business Administration study that charted the credit crunch that followed the financial crisis to a dip in small business exports. That is because getting foreign customers to pay their bills is much trickier than settling up with local companies.
In the effort to aducate and prepare SMEs to move internationally, ITTC has designed a series of webinars covering all Practical Aspects of International Trade (PAIT). The program is designed to help small and medium businesses understand and feel at ease in the complex global marketplace. The series of 12 live 3-hour webinars is tailored to fulfill businesses needs, customized to their own reality, and providing tools and information required to successfully operate globally. To learn more about the resourceful PAIT program, just click here.
About ITTC
International Trade Training Center (ITTC) is a training institution specialized in international trade e-learning. The courses are delivered online, or in the traditional classroom, with the live participation of an experienced trainer. Each webinar is supported with publications, videos, case studies, practical exercises, and by professional coaching of the trainer –at an individual level. The content of the courses cover all areas of business practices internationally such as Supply Chains; Market Development Strategies; Transport and Logistics; Customs and INCOTERMS; Legal and Fiscal aspects of Exporting, Financing and Risk Management; Web 2.0, etc. All ITTC trainers are certified experts with extensive knowledge and a rich and solid backgorund in their respective fields, so they can enrich the courses by sharing real case experiences.
ITTC'S mission is to show business to successfully take off to international scene. Visit the ITTC website and let us show you how!