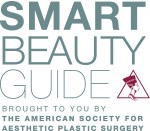 New York, NY (PRWEB) October 22, 2013
Consumers looking for accurate, unbiased information on all aspects of cosmetic surgery and medicine now have access to a comprehensive resource by typing Smart Beauty Guide into any browser, tablet or smart phone.
Two years in the making and created by aesthetic surgeons for their own patients, Smart Beauty Guide is the new consumer "face" of The American Society for Aesthetic Plastic Surgery (ASAPS), an organization of 2600 board-certified aesthetic plastic surgeons. Smart Beauty Guide features not only the information you'd expect from a leading medical organization of plastic surgeons, but also toolkits, product giveaways, and well known bloggers - from the "mommy sphere" to anthropologists - giving their unique views on issues such as beauty, plastic surgery and how these subjects are reflected in the popular media.
The easy-to-navigate website was created to assist consumers considering plastic surgery in the research and decision making process. Consumers will find the following educational resources in the Smart Beauty Guide:

Planning Toolkit: Checklists, costs and safety information to facilitate a consultation
Ask-A-Surgeon: Questions from consumers and answers by ASAPS members
Find a Plastic Surgeon: Search tool for locating an ASAPS aesthetic surgeon in your area
Procedural Information: Surgical and non-surgical procedures for women and men
News: Emerging trends and technologies in plastic surgery
"For over 45 years The Aesthetic Society has been a resource for public education. Our new Smart Beauty Guide demonstrates not only our commitment to providing consumers with a real and unbiased source of knowledge but also goes a long way to ensure that everyone has the information they need to make informed and safe decisions," said Jack Fisher, MD, President of the Aesthetic Society. "An informed decision is our definition of Smart Beauty."
"Patient safety and public education are top priorities for the Aesthetic Society. Through Smart Beauty Guide we are empowering consumers with knowledge to make informed and intelligent decisions and help them meet their smart beauty goals," said Sanjay Grover, MD, ASAPS Vice Commissioner for Communications. "Knowledge is a beautiful thing."
To kick-off the launch of Smart Beauty Guide, ASAPS is running a contest titled '$1000 Worth of Smart Beauty.' Participants can enter this contest via SmartBeautyGuide.com, the Smart Beauty Guide Facebook page or Cosmopolitan magazines online edition. This contest will have one grand prize winner and 10 runners up.
For more information about Smart Beauty Guide and the '$1000 Worth of Smart Beauty' contest, go to http://www.SmartBeautyGuide.com.
####
About ASAPS
The American Society for Aesthetic Plastic Surgery (ASAPS), is recognized as the world's leading organization devoted entirely to aesthetic plastic surgery and cosmetic medicine of the face and body. ASAPS is comprised of over 2,600 Plastic Surgeons; active members are certified by the American Board of Plastic Surgery (USA) or by the Royal College of Physicians and Surgeons of Canada and have extensive training in the complete spectrum of surgical and non-surgical aesthetic procedures. International active members are certified by equivalent boards of their respective countries. All members worldwide adhere to a strict Code of Ethics and must meet stringent membership requirements.
Website: http://www.surgery.org
Follow ASAPS on Twitter: twitter.com/ASAPS
Become a fan of ASAPS on Facebook: http://www.facebook.com/AestheticSociety
Website: http://www.SmartBeautyGuide.com
Follow Smart Beauty Guide on Twitter: http://www.twitter.com/SmartBeautyNews
Become a fan of Smart Beauty Guide on Facebook: http://www.facebook.com/SmartBeautyGuide
Locate a plastic surgeon in your area: http://www.surgery.org/consumers/find-a-plastic-surgeon