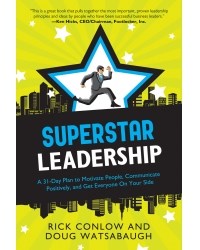 "Superstar Leadership identifies the habits of the best and worst leaders. Good boss bad boss which one are you?" Rick Conlow
Minneapolis/St. Paul, Minnesota (PRWEB) October 18, 2013
Rick Conlow and Doug Watsabaugh Co-founders of WCW Partners, Inc. a global business management consulting firm, announces its newest book, Superstar Leadership A 31 Day Plan to Motivate People, Communicate Positively, Get Everyone On Your Side. Rick and Doug have consulted with some of the biggest companies in the world and have helped nearly 250,000 managers achieve more leadership success.
Leaders, managers, trainers, and supervisors who desire need to improve results, motivate their teams, enhance their careers or want further professional development should buy this book. Superstar Leadership provides a 31 day game plan for improvement, and reinforces the nine strategies of the best leaders.
Superstar Leadership is based on solid research but, more importantly, the success of practical experience with Rick and Doug's clients. It is rich with resources that are saturated with substance and significance. Participants will study and apply the concepts at their own time and speed using application exercises at the end of each chapter. The book teaches how to execute with excellence the 9 strategies of superstar leaders: planning effectively, coaching others toward excellence, training skills that work, creating employee engagement, communicating proactively, managing improved performance, hiring the best people, leading with flexibility, and establishing continuous improvement.
Readers of, Superstar Leadership: A 31 Day Plan to Motivate People, Communicate Positively and Get Everyone on Your Side, are challenged to become a students of the game through a commitment to learning. Well placed activities give readers the opportunity to put concepts into action. Through success and failure stories the book demonstrates the potential bottom line impact of key leadership principles.
Superstar leadership provides the information and insight that all team leaders, supervisors, managers and executives can use to achieve exceptional leadership results through their employee teams. A key premise in the book is "if you want your team to be better, you have to be a better leader."
Supportive resources are also available to round out a complete learning package. This includes the Superstar Leadership Self-study program that includes the book, 3 DVDs and an action oriented workbook. In addition, for further development readers can enroll in an online leadership training called The Superstar Leadership Monthly Video Training Series which includes twelve leadership training videos.
About the authors:
Rick Conlow is the CEO and cofounder of WCW Partners, a global management consulting and training firm. He has helped numerous companies like Target, Costco, Andersen Windows, and Canadian Linen reduce complaints, improve profits, and increase sales. Rick has been a general manager, vice president, training director, program director, and national sales trainer and consultant. He has authored 14 books, and regularly facilitates presentations to audiences of all sizes.
Doug Watsabaugh is the COO and cofounder of WCW Partners. His knowledge of experiential learning and skill at designing change processes and learning events have enabled him to significantly improve the lives of thousands of individuals and hundreds of organizations in various industries, including Coca Cola, Accenture, Hasbro, 3M, and General Mills. Doug is the author of seven books.
For more information, contact 888-313-0514 and or check out their website: http://www.wcwpartners.com.