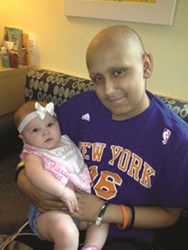 Acute Myleoid Leukemia research is underfunded, but there is hope for a cure. You can help research this devastating form of cancer so children who suffer from it can have hope that a cure will be found one day.
Paramus, New Jersey (PRWEB) October 19, 2013
On November 10, 2013, Tiger Schulmann's Mixed Martial Arts Paramus will host "Knock Out Kids' Cancers." This is a two-part event which teaches children and adults an introduction to martial arts training while simultaneously raising money for Benjamin's Hope for the Future – a Pediatric Foundation in Love, Hope, Faith and Courage for Benjamin Venezia. The event consists of four back-to-back introductory classes open to the friends, family members and acquaintances of Tiger Schulmann's students and of Ben Venezia, a 13-year old boy from Paramus who lost his life to AML in the Spring of 2013. To take an introductory class, the requested minimum donation is $20 per student. After the introductory class, attendees will schedule a Trial Program the following week which will include an orientation of the school, a trial class and free pair of training gloves. If they then wish to enroll as a regular student of Tiger Schulmann's Paramus, $100 of their tuition will also go to Benjamin's Hope for the Future.
Since their founding in 1984, Tiger Schulmann's has helped tens of thousands of children improve their health and well-being. Many of these children have even gone on to become instructors themselves.
All children, ages 5 and up, as well as older teens and adults are welcome to attend. After their prospective classes on Sunday, November 10, attendees of the event are encouraged to follow their class with lunch or dinner at Paramus's Suburban Diner right next door where the two establishments have arranged a Dine-and-Donate in which 10% of all food and drinks purchased will be donated to Benjamin's Hope for the Future as well.
"The mission of Benjamin's Hope for the Future is to provide support and financial assistance to children and their families affected by cancer. They seek to advocated for children fighting cancer and assist with one on one fundraising for financial assistance to families in need. They seek to provide funding for cutting edge pediatric cancer research with a primary focus on Acute Myleoid Leukemia (AML) research. Finally, they aim to recognize and offer scholarships to outstanding youth in the community excelling in academics and actively involved community service," states Jackie Neilson, Manager of Tiger Schulmann's Mixed Martial Arts in Paramus. "Over 13,000 children are diagnosed with cancer each year. One out of five will lose their life, and three out of five will develop long term side effects. What's worse is that pediatric cancer receives about 4% funding and no new pediatric drugs have been developed over the last 20 years. More funding and attention needs to be paid to this cause." In addition to teaching self-defense and self-discipline to youth, Tiger Schulmann's Mixed Martial Arts has always taken part in helping charities and foundations such as this for the past 30 years. They have raised ____ for the Girard Gimble Foundation, and approximately $50,000 for Hurricane Sandy Relief and Red Cross efforts, among many others. Tiger Schulmann's students are taught to live by the highest traditional values, including compassion and generosity – understanding and attempting to alleviate someone's distress, and sensitively placing someone else's needs above one's own desires. The goal of the event on November 10, the first-annual event for Benjamin's Hope, is to help the Venezia family carry out their foundation's mission and raise over $10,000.
For the first time in 2013, TSMMA Paramus will host "Knock Out Kids' Cancer", a series of classes taught by instructors Michael Murray and Jackie Neilson for kids and adults age 5 and up. The seminar teaches an introduction to self-defense, which also incorporates self-discipline training and exercise in a fun and safe atmosphere. Refreshments will be served throughout the classes. ALL Paramus students and parents should attend and spread the word far and wide. The event will be open to the public, but we request that attendees call to reserve a spot. Register with Jackie Neilson at 201-977-2066 or Paramus(at)tsk(dot)com.
Contact Information:
Jackie Neilson – Manager
Tiger Schulmann's Mixed Martial Arts
176 A Route 17 North
201-977-2066
http://www.ParamusMixedMartialArts.com