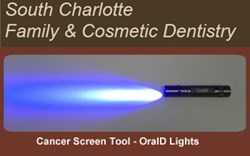 This simple tool will increase the survival rates of oral cancers that have been on the rise for the past five years.
Charlotte, North Carolina (PRWEB) October 21, 2013
Dr. James Wells of South Charlotte Dentistry is one of the first dentists in the Charlotte community to offer his patients an oral cancer screening during their routine office visits. Using new technology called 'OralD Lights,' Dr. Wells can now help identify early detection of oral cancer, pre-cancer and other abnormal lesions that are not visible with the naked eye.
"This is a problem that is not going away unless we start to diagnose it earlier in its development," says Dr. James Wells. "This very simple, non-invasive, but effective tool will help us increase the survival rates of oral cancers that have been on the rise for the past five years."
It's estimated that approximately 42,000 people in the United States will be newly diagnosed with oral cancer in 2013. And among the 42,000 diagnosed with oral cancer in the United States, 18,000 will not be alive in five years. And according to a 2012 American Cancer Society (ACS) report, there is a strong connection between oral cancer and the Human Papillomavirus (HPV), with HPV being the fastest growing oral cancer population. The report went on to state that three out of four people are infected with HPV at some point in their lives. And oral HPV increases the risk for oral cancer fiftyfold.
As a very simple procedure, Dr Wells or one of his trained staff members wearing a pair of high tech glasses looks into a patient's mouth using an optically based fluorescent light the size of a small flashlight. These OralID Lights enables clinicians to identify life-threatening oral tissue abnormalities unseen with the naked eye in their early stages.
Dr. James Wells says, "Today, the majority of oral cancers are found in late stages, stage 3 or 4. But when found at an early stage of development, stage I or II, oral cancers have an 80 to 90 percent survival rate.
Dr Well recommends everyone get screened on an annual basis, especially those who have a history or smoking or chewing tobacco. According to the (ACS) the mortality rate for oral cancer is higher than the rates for cervical cancer, Hodgkin's lymphoma, laryngeal cancer, testicular cancer, thyroid cancer and skin cancer.
For more information regarding oral screening using OralD Lights call Dr. Wells at 704-759-0908 or visit the website at http://www.southcharlottedentistry.com.