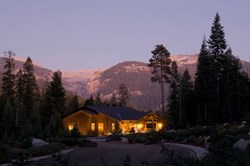 Sequoia National Park, CA (PRWEB) October 17, 2013
Visitors to Sequoia National Park can return to enjoy perfect temperatures, endless trails, plus peace and relaxation this fall. Nestled in the heart of Sequoia National Park, Wuksachi Lodge is making it easy to return to the park, unwind and enjoy the best of the season.
Celebrate the park's reopening with Wuksachi's Stay & Choose special offer. Through Dec. 19, the lodge will pick up the cost of your choice of a free Sequoia -Kings Canyon National Park pass, breakfast for two, or picnic lunch for two. To take advantage of this offer, visit VisitSequoia.com/Open or call 866-807-3598 and mention code SNPOPEN.
What awaits guests this October and November? Fall has been slowly spreading across Sequoia's 400,000 acres of Sierra Nevada splendor. Discover almost 800 miles of scenic hiking paths that wind through auburn-tinged forests. Hear the birds sing and watch wildlife busily prepare for the winter ahead. Fall getaways at Wuksachi Lodge start at just $155 in October and $115 in November, making fall truly a perfect time to recharge the senses.
The arrival of the season also heralds the beginning of the delectable harvest season. The expert chefs at the Peaks Restaurant blend the flavors and colors of fall into signature cuisine. Sustainable and local fresh fall flavors will include a signature Sierra dinner of tender ruby-red trout seared in a savory sage brown butter sauce, and creative dishes for quick picnic lunches to-go. The culinary surprises in store are certain to suit individual tastes as well as hearty post-hike appetites.
For those looking for a quick, invigorating mountain escape with minimal planning and maximum enjoyment, Wuksachi's Fall Foliage Package is just right. Starting at just $235 in October and $189 in November, visitors will receive two nights stay at Wuksachi Lodge, picnic box lunches for two, a field guide card, and a keepsake, copper-dipped Sequoia pinecone.
Fall's crisp evening air and early sunsets provide the perfect excuse to get outdoors and explore by moonlight. The park invites all night owls to join the fun fall activities and events in Sequoia, ranging from stargazing to spookier adventures. Sequoia Octobers traditionally beckon visitors to take part in guided lantern tours, quests to learn about creatures of the night, pumpkin carvings, and other fun Halloween traditions; along with nighttime tours of Crystal Cave for those seeking more chills and thrills. Take a look at the latest seasonal happenings at VisitSequoia.com/Events.
Who says astronauts are the only ones who have the chance to get acquainted with Outer Space? Visitors have the chance to greet the shining moon and constellations atop Moro Rock's 6,725-foot granite summit. On Oct. 19, local astronomy experts will lead a tour highlighting the best of the night sky against a backdrop of the glimmering harvest moon as it rises over the Great Western Divide.
For guests looking to immerse themselves in the astronomy wonders above the park, the Sequoia Night Sky Package is the perfect getaway, starting from only $225 in October and $165 in November. Using the provided astronomy wheel, flashlight, throw, and tote, guests will have a hard time pulling their eyes away from the wonders of the night sky and heading back indoors to enjoy a night's stay in a signature Wuksachi Lodge cabin. Guests can catch the Wonders of the Night Sky astronomy presentations at Wuksachi Lodge every Friday evening during the month of October.
After a long day hiking on Sequoia's breathtaking trails, visitors can unwind and recharge with the simple yet serene Bed and Breakfast Package. After a rejuvenating night's sleep in a warm Wuksachi bed, guests need not look far to satisfy rumbling appetites with Wuksachi's take on breakfast favorites, all starting at only $139 in October and $119 in November per night. For the peak of romance, couples can cozy up and reconnect with the Wuksachi Romance Package starting from $265 in October and $225 in November. Fall in love all over again with a one-night stay, a bottle of crisp Sequoia wine and two keepsake wine glasses. Then, savor the moment with sweet local truffles from Reimer's Candies and a $60 credit toward a candlelit dinner for two at the charming Peaks Restaurant. For information on Wuksachi Lodge's current vacation packages and availability or to book accommodations, go to VisitSequoia.com/Packages or call toll-free (866) 449-4902.
About the Wuksachi Lodge
Located in the heart of Sequoia National Park on the western slope of the Central Sierra, the 102-room Wuksachi Lodge features a panoramic mountain setting, full-service restaurant, cocktail lounge, retail shop, and 1,320 square feet of dedicated meeting space. Furnishings reflect an upscale, natural decor highlighting native granite rock, oak, cedar, and hickory woods as well as modern guest amenities such as Internet access. The Wuksachi Lodge is operated by Delaware North Companies Parks & Resorts, one of the nation's leading hospitality management companies, under contract with the National Park Service. To learn more, visit http://www.visitsequoia.com.
About Delaware North Companies Parks & Resorts
Delaware North Companies Parks & Resorts is an industry leader providing Stewardship and Hospitality in Special Places℠ with hotel, retail, food service, recreation and transportation operations at historic and scenic properties in North America and Australia. The company operates Kennedy Space Center Visitor Complex and in Yellowstone, Grand Canyon, Sequoia and Yosemite national parks, including The Ahwahnee and other Yosemite lodges; Tenaya Lodge at Yosemite & the Cottages at Tenaya Lodge; Harrison Hot Springs Resort & Spa in British Columbia; Niagara Falls State Park; The Lodge at Geneva-on-the-Lake in Ohio; Gideon Putnam Resort in Saratoga; Holiday Inn West Yellowstone, Gray Wolf Inn & Suites and Yellowstone Park Hotel. The company also owns and operates five luxury resorts in Australia: Lizard Island Resort, Heron Island Resort, Wilson Island Resort, Kings Canyon Resort and El Questro Homestead and Wilderness Park. To learn more about Delaware North Companies' hospitality management expertise, visit http://www.experiencednc.com.