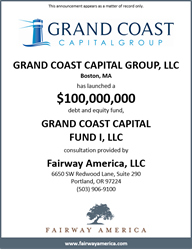 We have raised over $3,500,000 in our first month of operations, effectively deployed all of this capital into quality deals, and have another $2,000,000 committed for in the next 30 to 60 days. - Jeff Carter
Boston, MA (PRWEB) October 21, 2013
Fairway America, LLC ("Fairway") played a lead role in consulting and advising the structure and formation of the Grand Coast Capital Fund I (the "Fund"). Grand Coast Capital Group is led by Jeff Carter out of their main office in Boston, MA, as well as Paul Esajian, Than Merrill, and Konrad Sopielnikow out of San Diego, CA, who have been featured on the hit A&E television show "Flip this House".
Carter had a strong background in the institutional real estate and investment world and saw the increasing demand for private money lending. With over eight years of experience in the real estate investment and private equity sector, including most recently as Managing Partner of a real estate development firm handling acquisitions, fundraising, permitting, construction and management, he eventually decided to start his own private lending business. Carter spent over 2 years researching this niche market to create the best possible lending fund he could. "I looked around the East Coast for a year and half and couldn't find anyone who truly understood the open-ended structure I was looking for," said Carter. "I was referred to Fairway and they demonstrated very quickly that they knew their stuff inside and out. They were exactly the resource I needed to get us off the ground."
Given the principal's background and their affiliated companies, Grand Coast has access to tremendous deal flow. This deal flow and Carter's strong background in real estate private equity has enabled the Fund to get off to a fast start. "We have raised over $3,500,000 in our first month of operations, effectively deployed all of this capital into quality deals, and have another $2,000,000 committed for in the next 30 to 60 days" said Carter. "We are on track to hit our goal of $20,000,000 within the first 12 months and are looking forward to a very strong 2014."
"The Fairway team was very knowledgeable and provided some great insight into the proper fund structure to accommodate all of our needs, while aligning our interests with our investors, which was our highest priority," said Carter. "Matt and his company have been creating and implementing these open-ended, private lending funds for a number of years, and their experience was integral in the launch of our Fund".
About Fairway America
Fairway America, LLC is a long-time real estate lender, fund manager and boutique real estate finance advisory firm providing strategic business planning services nationwide to select private money lenders and real estate operators around the structure, architecture, and administration of proprietary 506 Reg D mortgage pool funds. Fairway America Management Group is the manager of Fairway America Fund VI, LLC, making creative small balance real estate investments nationwide. For more information, visit http://fairwayamerica.com.
About Grand Coast Capital Group
Grand Coast Capital Group was formed in 2013 after two years of collaborative analysis and due diligence amongst their four Managing Directors, a cohesive team with over 40 years of combined experience in real estate, lending, development and commercial investments. The Fund's investment objectives are to create a diversified portfolio of small balance real estate loans that provide good capital preservation and a strong risk-adjusted return. Grand Coast accepts accredited investors only. For more information, visit http://www.grandcoastcapital.com.