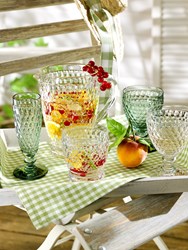 'The quality of your drink ware should match the quality of your dinnerware,' says Isabelle von Boch.
New York (PRWEB) October 21, 2013
Villeroy & Boch is extending their comprehensive range of crystal glassware and presenting new collections suitable for every need and occasion, from entry-level to premium price, making everyday luxury accessible to all consumers.
MYTH #1: Crystal glasses are delicate and should be saved for special occasions.
FACT: Villeroy & Boch Everyday Crystal drinking glasses are crafted from the most durable material for stemware, barware and casual drink ware. They never cloud, scratch or chip, even with frequent use and heavy dishwasher cleaning. The high-refractive index crystal used to produce Villeroy & Boch everyday drinking glasses retains brilliance year after year.
MYTH #2: Crystal is too expensive to use every day.
FACT: Villeroy & Boch offers a selection from a variety of price points that make high-quality durable crystal glasses (link) accessible to everyone.
"The quality of your drink ware should match the quality of your dinnerware," says Isabelle von Boch.
Since 1748, Villeroy & Boch has been crafting the highest quality crystal in a variety of designs that stylishly coordinate with their porcelain collections, such as NewWave, Urban Nature and French Garden.
This year, new well-priced crystal collections-, Purismo and Entrée- have been added to their glassware range to complement the high quality Villeroy & Boch dinnerware.
Purismo is an elegant line developed with expert European sommeliers to include two glasses each for red and white wines complemented by matching hand-blown decanters. Purismo also adds beer glasses and a selection of specialized crystal for cognac, grappa, champagne or simply a refreshing glass of cool water.
Entrée offers Villeroy & Boch quality for every occasion with a simple and modern sleekness that is exceptionally durable and break resistant. Like all Villeroy & Boch crystal, it retains its brilliance even after frequent cleaning in the dishwasher.
The full assortment of Villeroy & Boch glassware ranges between timeless sophistication and harmonious nostalgia, but all possess the same versatility and durable quality. Within these themes, there is a choice between undecorated lines like Entrée, Purismo, Torino, and more embellished collections like Boston, My Garden, New Cottage. Classic elegance can be found in Miss Desiree while Bernadotte offers a retro charm.
With the vast range of designs, consumers are now able to use crystal every day, stylishly transforming formal and casual entertaining into a more refined experience with each sip.
For more information on Villeroy & Boch Everyday Cryst al and the entire Villeroy & Boch product line, please visit: http://www.villeroy-boch.com/shop/.
***
About Villeroy & Boch
Villeroy & Boch was founded in Germany in 1748 and is one of the world's largest producers of premium porcelain, crafting everything from high-quality elegant dinnerware to world-renowned sinks, baths and toilets. Hand-blown, quality glassware was added to complement the growing diversity of dinnerware lines. Since its origins over 265 years ago, the ceramics manufacturing company has transformed into an international premium lifestyle brand and is represented in 125 countries around the world. The North American headquarters are located in the New York metro area of Monroe Township, N.J.