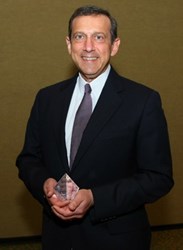 New York, NY (PRWEB) October 18, 2013
The Lymphoma Research Foundation (LRF) announced today that Ronald J. Levine has been awarded the 2013 Ellen Glesby Cohen Leadership Award. LRF is the nation's largest non-profit organization devoted exclusively to funding innovative lymphoma research and providing people with lymphoma and healthcare professionals with critical information on the disease.
"I am honored to receive this award from the Lymphoma Research Foundation and to be recognized in this way," shared Levine. "My work with the Foundation's Advocacy Program allows me to marry my interest in public policy and dedication to improving the quality of cancer care for every patient."
A resident of Princeton Junction, New Jersey, Mr. Levine is the LRF New Jersey Advocacy Chair. In this role he directs efforts at the local level to ensure the voice of the lymphoma community is heard by federal lawmakers. Professionally, he is the Co-Chair of the Litigation Department at the law firm Herrick, Feinstein LLP, which has offices in New York and Princeton, New Jersey.
"Ron came to the Foundation wanting to use his legal expertise and familiarity with policy making to positively impact the lives of fellow lymphoma survivors," shared Meghan Gutierrez, LRF Chief Communications Officer and Director of the LRF Advocacy Program. "In his role as Advocacy Chair, he has led efforts to sustain and grow the federal government's investment in lymphoma research and expanded the New Jersey Chapter's reach and visibility among members of the state's Congressional delegation. It is only because of the efforts of extraordinary leaders like Ron that we are able to advance our policy priorities, and ultimately, our mission."
The Ellen Glesby Cohen Leadership Award is named for the President and founder of the Lymphoma Research Foundation of America, one of LRF's predecessor organizations. Glesby Cohen founded the organization in response to her own battle with non-Hodgkin lymphoma and became a tireless advocate for people with lymphoma. The award recognizes outstanding volunteer leadership and dedication to the lymphoma community. The award was presented to Mr. Levine by Gutierrez and LRF Chief Executive Officer Elizabeth Thompson before an audience of 500 people during the North American Educational Forum on Lymphoma, the nation's premier educational conference for people with the disease.
About the Lymphoma Research Foundation
The Lymphoma Research Foundation (LRF) is the nation's largest non-profit organization devoted to funding innovative research and serving the lymphoma community through a comprehensive series of education programs, outreach initiatives and patient services. To date, LRF has awarded more than $54 million in lymphoma-specific research. For additional information on LRF's research, education and services, please visit lymphoma.org.