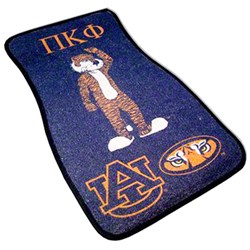 These auto mats are one size fits all and are a fun and affordable addition to any car or truck.
St. Charles, MO (PRWEB) October 25, 2013
Just in time for the holidays, Pic The Gift announce their latest item, fully customizable floor mats for vehicles. These personalizable auto mats are made with a 20 ounce loop carpet for added durability through various weather conditions and are completely customizable with any photos, images, designs, or text of your choosing.
Pic The Gift gives customers the ability to create and customize their own personalized and unique "Made in the USA" auto mats. These auto mats are one size fits all and are a fun and affordable addition to any car or truck. Customers can choose a favorite design or photo, or show their pride with their favorite sports team's logo; just the way they want. Saved images can be pulled from a computer, camera, Facebook gallery, and several other online picture hosting platforms. Customers are even given the ability to choose their own background color by simply clicking the background color box. Pic The Gift also offers customers the ability to add their own personal creative text with over hundreds of different fonts to choose from.
With over 50 years of experience in the distribution and manufacturing of customized gifts, Pic The Gift was established to meet the rising demand for personalized products and photo gifts. Strategically placing their manufacturing facility in the heart of the Midwest, specifically in St. Louis, Missouri, enables Pic The Gift to offer expedited delivery service to each one of their clients. All products are shipped anywhere in the United States within four days.
All of Pic The Gift's manufacturing is done in the United States, under their own roof, and according to strict quality standards. While some raw material is imported, be assured that 100 percent of their manufacturing is done in the United States and Pic the Gift is doing everything in their power to keep jobs here in the United States.
For more information on Pic The Gift's personalizable auto mat and other personalized gifts, visit http://www.picthegift.com/ or contact 888-407-5008.