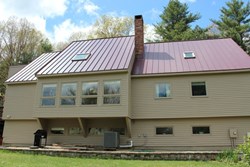 Metal roofing is among the best solutions for roofing in this region
Stow, MA (PRWEB) October 23, 2013
Classic Metal Roofs, LLC announced today they have opened a new location in Rhode Island, after an increased customer interest in metal roofing in the area. The new office location in West Warwick will expand the company's service area to now include Massachusetts, Connecticut, Rhode Island, and southern New Hampshire.
The popularity of metal roofs in Rhode Island not only comes from the efficiency of the roofing style, but also the geographic location of the state. Rhode Island is the "Ocean State" and is known as a high wind region, which does not bode well for conventional asphalt roofing. This area is also a potential target for coastal storms, like hurricanes traveling up the coast.
"Metal roofing is among the best solutions for roofing in this region," said Mike Gonet, senior partner with the firm. "Within the past year, we have seen a tremendous increase in metal roofing projects in this area and it is an exciting time for the company as we look to expand our customer service in Rhode Island with a new location. Our new West Warwick location is centrally located in Rhode Island."
Classic Metal Roofs, LLC offers a variety of metal roofing options optimized for the Rhode Island environment. Aluminum metal roofing will be the best solution due to the coastal region. Aluminum metal shingles in both shake and slate profiles and aluminum standing seam in several widths round out the standard options for homeowners looking to replace there roof or folks building a new home. Classic also installs copper and zinc roofs.
The new office is located at 88 West Warwick Ave, West Warwick, RI. The local telephone number is 401-821-0024. The hours of operation are 8:00 AM – 5:00 PM, Monday through Friday.
To learn more about Classic Metal Roofs, LLC go to: http://www.classicmetalroofs.com or call 866-660-6668.
About Classic Metal Roofs, LLC:
Classic Metal Roofs, LLC, is considered one of the premier installers of metal roofing in New England. They specializes in the installation of lifetime residential metal roofing systems for people who want energy star, environmental, sustainable, or long term solutions for their roofing needs. They believe their metal roofs are 'The Best Roofs under the Sun,' and are in business to provide their customers with a worry-free roofing future. Their service area includes Massachusetts, Connecticut, Rhode Island, and Southern New Hampshire. Classic Metal Roofs, LLC works with contractors, architects, and homeowners.