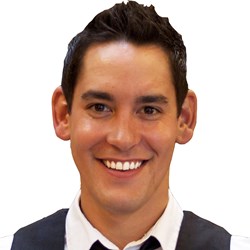 We're hiring some of the best real estate agents out there as our market dominance continues to grow.
San Francisco, CA (PRWEB) October 18, 2013
San Francisco-based Climb Real Estate Group is pleased to announce their affiliation with Evan Bliss, who will join the real estate team as Sales Associate. An accomplished residential real estate agent, Bliss comes to Climb with one year of experience in real estate sales and two years of experience in leasing.
"What sets me apart is not only my love for San Francisco, but also my passion for customer service. This starts by carefully listening to my clients. Helping someone buy or sell a property is just the beginning," said Bliss. "In my experiences working for Southwest Airlines, I learned the motto 'Do the Right Thing.' I am there wherever, whenever my clients need me. This is what distinguishes my practice: unparalleled customer service."
Evan Bliss began his career working in the airline industry, traveling the world and learning about new cultures. After graduating from the University of the Incarnate Word, Evan pursued his passion for marketing and advertising. For the last few years, Evan has brought his sales and marketing experience along with his internet savvy to the business of buying and selling homes.
"We're hiring some of the best real estate agents out there as our market dominance continues to grow," said Tiffany Combs, Managing Broker. "Evan brings the tremendous drive and energy that Climb is known for. He is uniquely qualified in helping buyers find extraordinary homes in San Francisco. We are excited to welcome Evan Bliss to our team."
Bliss has an always present and ever-growing passion for architecture and design. He lives in San Francisco's Civic Center neighborhood, in the heart of the Performing Arts district, with his partner Gregg, also a realtor, and their pit bull Harley.
ABOUT CLIMB REAL ESTATE
Climb Real Estate Group is a full-service general real estate brokerage with an emphasis on the purchase, sale, rental and marketing of select residential new developments, commercial and premier resale properties. They specialize in condos, high rises, lofts and homes in South Beach, SOMA, South Beach, Mission Bay, Rincon Hill, Potrero Hill and Central Waterfront. Their focus is on urban-style properties, specializing in new construction, historic loft conversions, live/work spaces, Victorian flats, modern condominiums, and stylish single-family homes. They also have exclusive access to off-market listings, foreclosures and developer specials.