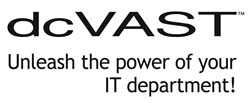 Downers Grove, IL (PRWEB) October 18, 2013
In the last 12 months they have hired five engineers to ensure they stay ahead of the business growth and to support customer need for services support and fast call resolutions.
Robert Swanson, dcVAST's Service Delivery Manager, states, "Simply put, in order to stay ahead of the growth curve, we've added more talent."
dcVAST welcomes the following new engineers to their family: Brian Dykes, Umair Hussain, Vaiz Khan, Kurt Schmid, and David Shuler.
Khan's and Shuler's primary responsibilities will be to assist the growing managed services practice as well as support customers with dcVAST's Infrastructure as a Service (IaaS) offering.
Hussain' and Dykes' main roles are to focus on professional services, however they both work to resolve Symantec support cases. Dykes specializes in Enterprise Vault and Backup Exec and Hussain in NetBackup.
Schmid will provide strategic information management solutions to help decrease risk and cost of ownership, increase flexibility and scalability, as well as improve efficiencies for archiving, eDiscovery, compliance and overall business and technical processes.
Robert Swanson adds, "We want to continue to provide exceptional response times to the resolution of customer requirements and ensure our response times remain well above our SLAs. As importantly, we want to stay at the top of the industry. In fact, we want to take customer service one step further."
As dcVAST grows, they also continue to move towards a specialization model and away from the industry-standard 'jack of all trades" model for engineers. The "jack of all trades" model, explains Swanson, "…often means the person answering the phone can only handle surface level issues. If you have deeper or more technical needs, you will be 'escalated' which takes time. Our customers want fast, one-call resolution as often as possible."
By hiring five additional engineers, dcVAST expects to continue providing the "high touch" service and technical depth that their customers have come to expect.
About dcVAST
dcVAST provides IT services and infrastructure management that reduce customer's costs and improve operational efficiency allowing them to focus on their business priorities. Their managed services division is designed to help leverage customer's IT expertise, add necessary capabilities where and when needed, provide early indication of potential problem and defined resolutions – all to help maximize the value of your IT people, infrastructure and budget.
dcVAST services customers with a "high touch" model, normally in four (4) hours or less. When you call dcVAST, you can expect your call to be answered by a live human being within three (3) rings or fewer. No phone prompts, decision trees or voicemails.