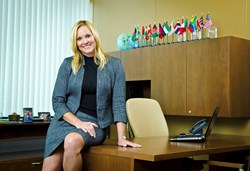 I have to believe that what I am doing makes a difference. If I can help one young women or one young child then I am helping one family. If I can help one family, how many people will that one family touch? It could be thousands.- Lori Blaker
(PRWEB) October 21, 2013
In a recently released video, Lori Blaker discusses the fourth of the WEP principles while speaking to a group of students at Walsh College in Troy, Michigan. The Women's Empowerment Principles is a joint initiative between the UN Global Compact and UN Women.
When asked how TTi Global encourages equal opportunities for mentoring and education, Blaker replied, "I encourage every single TTi Global office around the world to pick a cause and get involved. We need to be good citizen in the communities where we work and live. Since I believe so strongly in promoting education and advancement for women and young people, I am involved in a number of programs, both personally and as a representative of TTi Global, with organizations that support such causes."
Blaker cited a specific example where she contributed to the education of young women. "I help support a vocational school in Bangalore, India. I have set a scholarship program for young women where they can attend school free of charge. In so many rural communities families believe that women aren't worth educating. It was a challenge to figure out ways to cover the costs for these young women."
TTi Global sets an excellent example for other companies to follow, Blaker emphasized, "Three out of our four senior management positions are held by women. That's quite an act to follow and we are very proud of that. Our Regional Finance Director in Latin American is a woman. We meet weekly with our global recruiting staff to make certain that our recruiting efforts reflects cultural diversity and we are keeping things equal as far of gender."
When asked if what she was doing really had an impact, Blaker replied, "I have to believe that what I am doing makes a difference. If I can help one young women or one young child then I am helping one family. If I can help one family, how many people will that one family touch? It could be thousands. If I can touch two children, two families, it will be in the thousands."
Blaker is actively involved with numerous educational and mentoring organizations including: Cornerstone Schools, Eaton Academy, Women of Tomorrow, Peace for Business and Women for Women International and others. She encourages other business leaders to use the seven Women's Empowerment Principles as guide posts for actions that advance and empower women in the workplace, marketplace and community.
President and CEO, Lori Blaker heads of one of the fastest growing women-led organizations in North America. Her leadership skills continue to be recognized by the business community. In 2012 President/CEO Lori Blaker received the "Leader of Leaders" Award from Leadership Oakland. Under her leadership, TTi Global has ranked consistently among the "Top 25 Woman-Run Businesses in the USA" as recognized by the Women's Business Enterprise National Council.
###
TTi Global provides staffing, learning, research and consulting solutions to industries across various sectors with automotive as a core focus. TTi Global oversees operations on five continents with offices spanning the globe, which include Australia, Brazil, Canada, Chile, China, India, Japan, Mexico, Peru, South Africa, Thailand, Venezuela, UK and most recently Afghanistan.
With a staff of over 2000 employees in international operations, they offer a wide range of services, tailor made to drive business goals, including business consulting, research, staffing, workforce development and learning solutions. TTi Global world headquarters are located in Rochester Hills, Michigan.