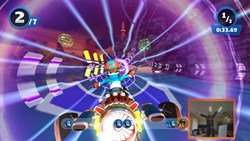 Integrating Extreme Reality's SDK gave us the ability to open Beat Booster to a new audience of non-console users.
Herzelia, Israel and Melbourne, Australia
(PRWEB) October 18, 2013 -- Extreme Reality, the only company to bring full-body motion analysis and control via a device's native or peripheral camera, and interactive game developer studio Current Circus, today announced the re-launch of the racing game Beat Booster. The game, originally developed for exclusive use with leading motion gaming platforms, now enables players to enjoy the same full-body motion controlled experience on any Windows 8 device. Using nothing more than a device's native camera or webcam, players no longer have to own a gaming console to enjoy the game's motionized experience.
"Integrating Extreme Reality's SDK gave us the ability to open Beat Booster to a new audience of non-console users," said Yossi Landesrocha, the CEO and Creative Director of Current Circus. "Now the game can be easily downloaded and played on the devices people already own, such as their laptops or tablets."
Beat Booster is fast-paced racing game where players use full-body motion to control the avatar as they steer through exotic environments, pickup energetic power and navigate through 15 racing tracks that feature volcanoes, canyons, tropical forests and dark caves. Without relying on a traditional, hand-held controller, players are launched into an adrenaline-pumping aerial course filled with stimulating obstacles and challenges as they fight off opponents with sonic weapons and collect much-needed energy along the way to boost ahead of the pack.
"Current Circus has shown how easy it is for developers to convert their motion controlled console games to a much wider audience of PC and tablet users," said Sarit Firon, CEO of Extreme Reality. "Motion control games no longer have to be restricted by hardware and can be played anywhere."
Beat Booster is now available to download in the Windows 8 Store for Windows 8 laptops, desktops, tablets or All in Ones, playing either with the native camera or an external camera. To see a video demonstration of the game click here.
Developers interested in integrating Extreme Motion control technology into their game or app can visit the Extreme Reality developer zone http://www.xtr3d.com/developers.
About Extreme Reality
Extreme Reality enables a future where people interact with computing devices by their body motion, without touching anything. It is the only company to provide full-body, software-based, motion analysis and control to any computing device or operating system via a standard camera. Offered as a software development kit (SDK) and with 14 patents granted worldwide, the company's Extreme Motion product enables developers to create a wide range of experiences (applications, games, security solutions and more) that pioneer Natural User Interfaces (NUI) while breaking the physical barriers of current hardware-based technologies. Extreme Reality was founded in 2005 and is based in Herzelia, Israel.
About Current Circus
Current Circus is an innovative and creative collective that specializes in tactile and motion-controlled entertainment software and immersive environments. Opening their doors in early 2010, the studio consists of experienced and talented professionals from the fields of video games, visual arts, music and film. After collaborating on different project in the past, the team came together to form Current Circus in order to create emotional experiences delivered through motion and play. Our developers have worked on console games dating back to the 32-bit era, and have created games in many different genres.