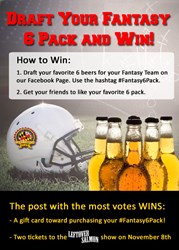 Our craft beer sampler is a great way to try something new.
Beltsville, MD (PRWEB) October 21, 2013
Old Line Fine Wine & Bistro in Beltsville, MD off Route 1 and Powder Mill Road is launching a special contest for craft beer and music enthusiasts.
Craft beer fans will draft their favorite six beers on Old Line's Facebook page, using the hashtag #Fantasy6Pack. Entrants will get their friends to "like" their fantasy six pack on Facebook and the fan with the most likes wins a gift card toward purchasing your craft beer sampler, two tickets to the Leftover Salmon show on November 8th at the 9:30 Club and a 2013 Fall Tour poster. Leftover Salmon is a jam band that boasts a unique blend of bluegrass, rock and country tunes. The tickets and poster are courtesy of Breckenridge Brewery of Breckenridge, CO. The Breckenridge Variety 12 pack will be on sale for $14.99 now through November 8th as part of the promotion.
Old Line has recently been offering sampler six packs, specifically designed to offer some of the best beer they have in-store. Whether you're an avid beer lover or interested in trying something new without committing to an entire six pack, Old Line's craft beer sampler is the perfect option. Curated by in-house craft beer expert Rob Goss, Old Line offers everything from light ales to dark stouts and hoppy IPAs to seasonal varieties.
"Our beer sampler is a great way to try something new," says Goss. "By tasting these different beers, people will be able to figure out what styles and tastes they prefer in their ales, lagers or stouts."
The Fantasy 6 Pack contest starts on October 19th and runs through November 2nd. Old Line will choose a winner on November 2nd. For more details and to submit your favorite craft beers, visit Old Line's Facebook page.
Old Line also encourages customers to try different craft beers through its Craft Beer Club. Members who join the club receive a hat, membership card, exclusive member events and discounts, and a monthly craft draft of their choice in an 8 oz. pour.
About Old Line Fine Wine, Spirits & Bistro:
Located in the heart of Beltsville, MD., Old Line is one of Maryland's largest fine wine, beer and spirits retail stores, specializing in an array of craft and domestic beers and spirits and top-notch tastings and education events. The beer, wine and spirits store also boasts their own in-store bistro, specializing in small and large plates and a selection of craft beers on tap. To see what Old Line Fine Wine, Spirits & Bistro can do for you, visit http://www.oldlinewine.com.