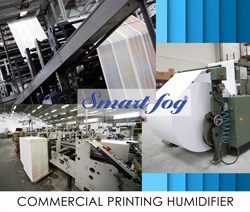 Smart Fog creates an ideal climate for printing equiptment
Reno, NV (PRWEB) October 28, 2013
This week Smart Fog announced, the extension of the ES100 series commercial humidifiers for the printing industry. The new high performance and scalable line of humidifiers provide a solution for many critical challenges in today's high-tech printing environment.
Working with state of the art printing equipment requires the maintenance of temperature and humidity levels. In many instances, the precise humidity Smart Fog generates is key to continuing operating the commercial printer. If the humidity is too low, the printing equipment will simply halt until the surrounding climate will have optimal conditions.
Simply maintaining higher humidity levels will also halt the printing equipment due to condensation, paper roll and may even cause damage to the commercial printer. Smart Fog uses algorithms to learn the environment and generate the exact humidity level required 24/7.
Smart Fog provide commercial humidifiers with the lowest water and energy consumption in the industry. With 100% water efficiency, every drop entering the system will evaporate into the air.
Smart Fog system uses direct injection of water into the air and does not rely on fans or the HVAC system to distribute the relative humidity throughout the area.
Smart Fog unique technology generates the exact relative humidity required instantly everywhere in the targeted area. Smart Fog commercial humidifiers are engineered for continuous operation with zero downtime. Maintenance can be conducted while the system is in full operation.
All Smart Fog commercial humidifiers incorporate unique AirNET droplet distribution technology. The humidity levels throughout the target area are kept equal with a differential relative humidity of no more than 1%.
About Smart Fog Inc
In business since 1980, Smart Fog Inc. is the recognized world leader in non-wetting commercial and industrial humidification solutions. Smart Fog's unique technology provides precise humidity enforcement, light speed uniform coverage and intelligent non-fluctuating humidity control. All Smart Fog products are all engineered and manufactured in the USA. Smart Fog staffs a full range of engineers to advise commercial printers, in-plants, and manufacturers on humidity management and environmental control for operation efficiency and employee comfort.
For more information, visit: http://www.smartfog.com