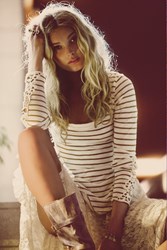 Philadelphia, PA (PRWEB) October 28, 2013
Specialty clothing brand, Free People, will be launching its 86th boutique at Bloomington's Mall of America®, one of the nation's most iconic shopping destinations. Just in time for the rush of holiday shoppers, the brand will open the 3,800 square foot space on November 22nd, 2013. As one of Free People's larger locations, the eclectically designed space will be filled with holiday product including gifts, apparel, and accessories to kick off the opening.
"Mall of America is truly a one-of-a-kind destination for shoppers both from the US and around the globe. We couldn't be more thrilled to be able to bring a dedicated Free People boutique experience to local customers as well as those who have traveled far and wide," says Beth Wehagen, Free People Director of Stores.
In celebration of the season, Free People will be stocking unique designs for all holiday needs. Special gift items include specialties such as gluten free and vegan cookies, henna-design candles, and patchwork holiday stockings. For those in search of something cozy, Free People's assortment will be filled with textured and patterned sweaters alongside scarves, ponchos, beanies, and socks. For the holiday season, Free People will offer a range of unique dresses and skirts with touches of sparkle and embellishment. A collection of black and white wovens, knits, and embellished pants will cater to the holiday goer looking for a menswear twist this year. To pair back with the celebration ensembles, an assortment of brilliant necklaces and party bags will top it all off.
Designed in the brand's 'Boho Bungalo' concept, the store interior will be a sight to see. The concept, inspired by the brand's globe-traveling girl and the collections that she curates, is quintessentially Free People. As shoppers enter the space, they will be greeted by reclaimed wood floors and glittering plaster walls, heavily adorned with rough sawn elements and natural carved wood. Fixtures feature beautiful inlayed table tops, brightly patched quilts, and an eye-catching yarn installation behind the cashwrap. The space will include ten dressing rooms festively decorated with starburst lanterns and a decoratively carved entrance.
Each store has a team of expert stylists on hand to help customers get their desired Free People look. Customers can also get inspiration online with FP Me, Free People's brand new style Community that offers fans a way to share their personal style, create looks, curate collections, and interact with one another.
The store is located at Mall of America, Bloomington, MN 55425. Store hours will run Monday-Saturday 10am-9:30pm, and Sunday 10am-7pm. Fans should also "like" the store on Facebook to stay up-to-date on all of the latest arrivals, events, and other happenings (https://www.facebook.com/pages/Free-People-Mall-of-America/278289502312484).
About Free People
Free People is a specialty clothing brand featuring the latest trends and vintage collections for women who live free through fashion, art, music, and travel. The eclectic look consists of quality apparel, shoes, and accessories that invoke attributes of femininity, spirit, and creativity with its design. Free People is distributed globally via direct channels including the Free People Global site and Free People UK site, as well as specialty boutiques, top department stores, and the brand's free standing retail locations in the U.S. and Canada.
About Mall of America®
Mall of America is the nation's largest retail and entertainment complex. At 4.2 million square feet, MOA is home to more than 520 world-class shops; Nickelodeon Universe®, the nation's largest indoor family amusement park; SEA LIFE Minnesota Aquarium, a 1.2 million gallon walk-through aquarium; Moose Mountain Adventure Golf; Theatres at Mall of America® - a 14-screen movie theater with VIP theatre and more. The Mall opened in August of 1992 and is located in Bloomington, Minn., just minutes from downtown Minneapolis and St. Paul. Follow Mall of America on Facebook and Twitter or visit our blog.