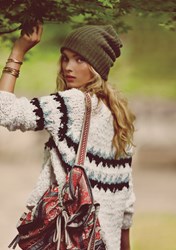 "Easton Town Center has changed the game for shopping in Columbus, and we know that it will be a wonderful home for the Free People brand."
Philadelphia, PA (PRWEB) October 30, 2013
Specialty clothing brand, Free People, will be opening its 87th boutique at Easton Town Center in Columbus, Ohio on November 22nd, 2013. The 3,300 square foot store will open its doors just in time for the holiday season, joining the center's recently opened district, Fenlon Square.
Among the holiday product, shoppers will find an assortment of specialty gifts, including gluten free and vegan cookies, henna-design candles, and patchwork holiday stockings. Free People's apparel assortment will be filled with knits and uniquely patterned sweaters alongside scarves, ponchos, beanies, and socks. For Holiday, the boutique will offer a beautiful range of holiday dresses and skirts with touches of sparkle and embellishment, in addition to a collection of tomboy-inspired black and white wovens, knits, and embellished pants and denim. To pair back with the party attire an assortment of brilliant necklaces and bags will top it all off.
The new location has been designed with the brand's 'Boho Bungalo' concept. The look and feel represents Free People's globe traveling girl and the collections that she curates and displays within her environment. Immediately upon entering, a Bhutti glass lantern sets the tone while an eye-catching pitched wood ceiling designed and created especially for this boutique makes the space feel cozy and inviting. The rustic feel is continued with accents of natural carving and rough sawn wood, glitter adorned walls, and an elevated dressing room area.
"We are excited to be joining such an incredibly successful lifestyle center within Columbus, as well as a premier shopping destination throughout the Midwest," says Beth Wehagen, Free People Director of Stores. "Easton Town Center has changed the game for shopping in Columbus, and we know that it will be a wonderful home for the Free People brand."
Each store has a team of expert stylists on hand to help customers get their desired Free People look. Customers can also get inspiration online with FP Me, Free People's brand new style Community that offers fans a way to share their personal style, create looks, curate collections, and interact with one another.
"Easton continually seeks best-in-class brands that introduce our customers to new shopping experiences and Free People does just that," said Beau Arnason, Executive Vice President of Steiner + Associates, co-developers and managers of Easton Town Center. "We are eager to welcome Free People to our newest shopping district, Fenlon Square, and we're excited to introduce this great brand to central Ohio."
The store is located at Easton Town Center in Columbus, OH 43219. Store hours will run Monday-Thursday 10am-9:30pm, Friday-Saturday 10am-10pm, and Sunday 12pm-6pm. Fans should also "like" the store on Facebook to stay up-to-date on all of the latest arrivals, events, and other happenings (https://www.facebook.com/pages/Free-People-Columbus/197560403745624).
###
About Free People
Free People is a specialty clothing brand featuring the latest trends and vintage collections for women who live free through fashion, art, music, and travel. The eclectic look consists of quality apparel, shoes, and accessories that invoke attributes of femininity, spirit, and creativity with its design. Free People is distributed globally via direct channels including the Free People Global site and Free People UK site, as well as specialty boutiques, top department stores, and the brand's free standing retail locations in the U.S. and Canada.
About Easton and Easton Town Center:
Easton is a 1,300-acre mixed use development in northeast Columbus, Ohio comprised of three hotels, thirteen soccer fields, two ice rinks, Ohio's largest cinema, one of central Ohio's largest fitness clubs and several of the highest grossing restaurants in Columbus. Easton was honored with an Innovative Design Award by the International Council of Shopping Centers in 2000 and listed as Top Five Most Innovative Malls in the World by trade publication Inside Retail in 2011. The development draws more than 20 million visits annually.
Easton Town Center, located in the heart of Easton, was co-developed by The Georgetown Company, Steiner + Associates and Limited Brands. Opened in June 1999, Easton is a 1.7 million square-foot "New Urban Retail" center that features pedestrian-friendly streetscapes, open-air gathering spaces, fountains and parks for children, in addition to nearly 200 best-of-class retail, entertainment and dining tenants. In 2013, Easton Town Center opened its newest district, known as Fenlon Square. Fenlon Square features 50,000 square feet of family-centric retail and dining options along Fenlon Street in the northeast quadrant of Easton Town Center. With every season, Easton's pedestrian-friendly common areas, parks and fountains serve as host for children at play, live music, dance, art fairs, celebrity appearances, carriage rides and many other community activities. Continued expansion allows Easton to remain fresh and at the forefront of the market. http://www.eastontowncenter.com.