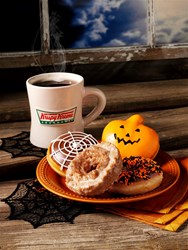 Costumer clad doughnut fans get a free treat on October 31 at participating Krispy Kreme US and Canada locations.
Winston Salem, NC (PRWEB) October 18, 2013
Make this year's Halloween celebrations uniquely delicious with Krispy Skremes! ™. Get a free treat on Halloween at participating Krispy Kreme® US and Canadian locations. Find out more at KrispySkremes.com.
On October 31st, come in in costume and get one free Halloween-themed, Pumpkin Spice or Pumpkin Cheesecake doughnut at any participating Krispy Kreme US and Canadian location. Offer good on October 31st only. No purchase necessary. While supplies last. One doughnut per customer. Good on October 31st only. Visit http://KrispyKreme.com/Halloween for participating locations.
Gather up a ghostly gang and enjoy these spooktacular short films by Krispy Kreme Productions at KrispySkremes.com. Share your best scream with Krispy Kreme #krispyskremes on Vine or Instagram.
Find out more about Krispy Kreme and Krispy Skremes doughnuts at KrispySkremes.com.
Connect with Krispy Kreme at KrispyKreme.com, HotLightApp.com, Facebook, foursquare and Twitter, and KrispyKremeDoughnuts on YouTube.
About Krispy Kreme
Krispy Kreme (NYSE: KKD) is an international retailer of premium-quality sweet treats, including its signature Original Glazed(R) doughnut. Headquartered in Winston-Salem, N.C., the Company has offered the highest-quality doughnuts and great-tasting coffee since it was founded in 1937. Krispy Kreme is proud of its Fundraising program, which for decades has helped non-profit organizations raise millions of dollars in needed funds. Today, Krispy Kreme can be found in over 785 locations in 22 countries around the world. Visit us at http://www.KrispyKreme.com.