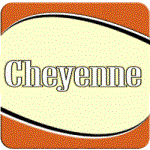 Cheyenne is a prime example of an American success story.
Miami, FL (PRWEB) October 20, 2013
The popular line of Cheyenne Little Filtered Cigars that has long been one of the best sellers at Internet retailer TrueTobacco.com - They will be enhanced by the addition of three new flavors, according to Nick Gordon, the tobacco vendor's General Manager.
Peach, Grape and "Xotic Berry" flavors will join the already best-selling Classic, Full Flavor, Wild Cherry, Wine and Vanilla variations. The new introductions, like TrueTobacco's older offerings in this line, will be offered in both 5x5 packages and 200 count cartons.
"Cheyennes are among our most popular little cigars," Gordon said. "We believe our customers deserve the chance to enjoy an expanded range of the product."
Cheyenne International products are an American success story. Made exclusively from first quality tobacco grown in the United States, all Cheyenne varieties are rolled at the company's factory in Cleveland County, North Carolina.
Founded in 2002, Cheyenne's business model stresses low overhead and flexibility rather than economies of scale. Their manufacturing facility has only 40 employees, yet the company's products are distributed all over the world.
"If you think American companies can't make it in manufacturing any more," said Gordon, "think again. Cheyenne is a prime example of an American success story."
The expansion of TrueTobacco's line of Cheyenne products is a reflection of a larger trend. The share of the US tobacco market controlled by micromanufacturers has more than tripled in recent years. While still a fraction of the size of the market for major tobacco brands, these companies are quite decisively proving their viability. Over 100 new small tobacco companies have come into existence in the past decade.
"Customers want this kind of product," Gordon maintains, "and Cheyenne is one of the best operators in terms of supplying the demand."
The wide variety of flavors of Cheyenne Little Filtered Cigars is just one reflection of the company's commitment to innovation. In addition to their namesake lines, Cheyenne produces four other brands of tobacco products: the Decade and Aura brands of cigarettes, Derringer cigars and the innovative BodyShot cocktail flavored cigars, all targeted to specific niche markets.
Cheyenne Little Filtered Cigars fit perfectly in to this business model with flavors that appeal to the traditional cigar smoker and now with new offerings designed for the more adventurous tobacco user.
"Cheyenne's market research is like their products," said Gordon. "It's first-rate. If there's a niche out there, they'll find it, and these new flavors of Little Filtered Cigars prove the point."
Rich-tasting Cheyennes have since their introduction appealed to smokers looking for cigars at an economical price. The new flavors of little cigars incorporate the same concern for maintaining quality while offering an economical alternative to more expensive mainstream brands.
Customers seem to appreciate both Cheyenne's innovation and their concern for quality. Reviews and ratings consistently rate their lines of little cigars near the top of the market.
"Selling tobacco products is not like any other business," Gordon said with a smile. "This is a company that understands the business, and it shows in products like the new Cheyenne Little Filtered Cigars."
TrueTobacco.com offers customers more than just the best possible array of products, Gordon pointed out. He mentioned that all orders over $199 are shipped free of charge, making it easier for customers to add a few different items to try, such as the new flavors of Cheyenne Little Filtered Cigars.