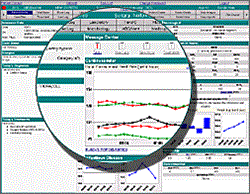 "ICUcare LLC solves the issue of interoperability for the Healthcare Industry"
Evansville, Indiana (PRWEB) October 17, 2013
In direct response to the ever growing debate and interoperability issues involving the exchange and, more importantly, the availability and transferability of patient medical health records from one care setting to another. Personal Health Records have been around for some time. Some are stand-alone while others are integrated with commercially available EHR/EMR or HIS systems as may be deployed in hospitals, clinics and physicians practices. The problem has been and continues to be the inability of these legacy systems, and even newly developed medical records systems to communicate with other disparate systems. One could say that it is by design, from a stand-point that the health care industry is a very competitive environment. Limiting access and more importantly, mobility of a patient medical record to a competing health care system has been one method of keeping a captive and loyal patient base for large competing health care systems.
The My eMHR represents an EHR/EMR Class Personal Health Records solution. Designed to be owned and managed in part by the consumer/patient and supported by care providers throughout the country by way of the system's unique ability to communicate with disparate system. The My eMHR has the ability to communicate with every "Certified Medical Records" system in North America.
When ICUcare uses the word "communicate", we explicitly mean; the ability to generate and transmit a CCR/CCD/CDA document that can be transmitted to any certified medical records system in North America. Upon receipt of said document/files, the receiving system can view, print, download, copy and more importantly, import and parse the data into their system as structured data. The My eMHR has the ability to capture, upload and parse patient data from any certified medical records system in North America. According to Robert E. Higgs, President and CEO of ICUcare LLC, "that's a really big deal!"
The concept or premise for this revolutionary technology is simple. The Government and Health Care Industry has been trying to "network" all end points or healthcare settings into an ever growing maze of complexity. This has involved the creation of Health Information Exchanges in an attempt to achieve but one simply objective, "providing every American with a Virtual Lifetime Electronic Medical/Health Record. The solution is as simple as, creating a Virtual Lifetime Personal Health Records System that travels with the only mobile component in the healthcare system, "the Patient"! In fact, the My eMHR actually represents a National Health Information Exchange.
The newly developed My eMHR is chocked-full with design features and capabilities to include: Kids Korner, a series of video based health games; My Video Chat, an HD video/audio conferencing application; My eTelehealth, the nation's first integrated and patient directed telemedicine/telehealth program connecting patients with physicians; My HIE Dongle, the nation's first Health Information Exchange vehicle; My Symptoms Checker, a sophisticated patient/consumer/clinician initiated tool for diagnosing simple and complex medical problems using differential diagnosis and naturally speaking language to include treatment resources and more. These newly developed solutions are offered on a subscription basis with the Bronze Level Program being offered for Free to every American. See http://www.MyeMHR.com
"We at ICUcare, LLC believe in empowering people with choices. As long as we still have the right to vote, we should also have the right to manage the most important areas of our lives: faith, family, finances, and our well-being (personal medical records)," states Higgs.
Learn more by visiting http://www.MyeMHR.com
About ICUcare, LLC:
First to develop and certify to ONC-ATB Meaningful Use a turn-key Telemedicine and EHR system called eDoc® Telemedicine/EHR. ICUcare LLC was founded by CEO and President Robert E. Higgs. ICUcare LLC develops and deploys patient-centered advanced technological solutions. See http://www.ICUcare.com