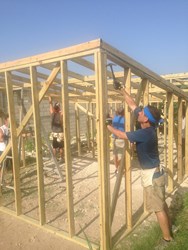 Doylestown, PA (PRWEB) October 18, 2013
Imagine coming into a country that has been devastated by an earthquake, seeing people in need, and wanting to do something about it but not knowing where to begin. This is exactly what happened to the non-profit organization Poverty Resolutions; yet, instead of giving up and thinking the task would be too big, they began doing something about it. Founded in 2010 by Andrew and Matthew Jones, Poverty Resolutions is an organization that is based out of Doylestown, PA and the heart of their organization is to eliminate poverty around the world. Back in 2010 they had spent twenty-days days living down in Haiti, in a tent city, trying to get a deeper understanding of what living in poverty was like. They were blown away by what they saw, what they experienced, and the emotions they felt. Since then, their goal has been to change Haiti and to eventually change the world. The main way they do this is through raising awareness and raising support in order to fund projects that will help eliminate poverty.
This past summer alone, Poverty Resolutions completed several important projects and began to build plans and vision for the future. With the help of the groups who took trips to Haiti this year, Poverty Resolutions completed the following projects: they built a basketball court, soccer field, and swing set. They constructed and learned to run a tilapia farm and irrigation system. They fed hospital patients, sponsored children to go to school, and spent time at the orphanage they partner with down in Port-Au-Price, Haiti. Through these projects, Poverty Resolutions helped to build the community in Haiti and began to give the people what they needed most—a sustainable solution for those living in poverty.
Once Poverty Resolutions learned this important fact and after being told by Haitians that what was needed most were jobs, they went to work brainstorming and drawing up plans for the future.
Along with the other projects that were completed this past summer, Poverty Resolutions and their teams built three greenhouses. Greenhouses, they realized, were going to be the future of Haiti. Due to the weather and other conditions in Haiti, greenhouses provide a safe and stable environment for plants and food to grow. If trained efficiently, Haitians should eventually be able to run a greenhouse on their own for their family. The greenhouse will produce plants—some of which they will sell and others they will eat as nutrition. The plants that are sold will provide the family with income that they may apply towards food, water, supplies, or education. The promise that greenhouses hold for a nation like Haiti is unfathomable. If enough greenhouses can be built and run effectively, those living in poverty will be able to finally see a way out.
Join together with Poverty Resolutions to help the future of Haiti and other nations that are suffering because of poverty. Raise awareness, raise support, and spread the news to those you know. The more we know, the more we can do, and the bigger impact we can make for future generations. Partner with Poverty Resolutions and help make a difference.
Poverty Resolutions is a 501(c)(3) non-profit organization dedicated to the eradication of poverty around the world. They aim to educate others in order to increase awareness of global poverty and to also inspire people to take action. In Haiti, they provide sustainable solutions to poverty, which empower individuals and organizations to meet the needs of their communities.
Poverty Resolutions is based out of Doylestown, PA.
To learn more, visit: http://www.povertyresolutions.org.