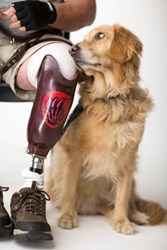 These images and stories put a human face to statistics about the men and women who have served our country and endure the aftermath of military conflicts. - photographer Vicki Topaz
San Francisco, Calif (PRWEB) October 18, 2013
Photographer Vicki Topaz unveils a photographic series called HEAL! Veterans and Their Service Dogs, which includes portraits of and interviews with former United States military personnel who struggle with post-traumatic stress disorder (PTSD) and are partnered with service dogs to assist in their recovery. The work connects us to individual veterans who silently suffer through the aftermath of war or military sexual trauma, and brings attention to the healing power provided by the canine-human bond. HEAL! stories and photographs are available online at http://www.healveterans.com.
Topaz also announces the launch of the first in a series of video interviews just in time for Veterans Day. The video is now online at http://youtu.be/_GWHM6YAUE8.
A selection of these photographs will be featured in an exhibition called "Veterans' Voices IV" at Rhythmix Cultural Works in Alameda, California, which will be opening with a panel discussion on Thursday, November 7 and an opening reception on Friday, November 8, 2013. The panel discussion will address the state of veterans' affairs and opportunities for veterans including service dogs, community service, art as therapy, and more. The exhibition will run through January 3, 2014.
"The stories about our wounded warriors have triggered memories of my own father's struggle to recover from his WWII experiences as a tail gunner," comments photographer Vicki Topaz. "Like my father, many veterans with PTSD are often misunderstood and left on their own with little help. These images and stories put a human face to statistics about the men and women who have served our country and endure the aftermath of military conflicts."
HEAL! features portraits and documents stories of veterans partnered with service dogs. The growing body of work currently includes portraits and interviews with 15 veterans who served in the military from 1960s through present. The stories reveal how service dogs provide veterans with the support they need to get through a day and back out into their communities. The dogs are specifically trained to assist in alleviating stress and keeping their veterans focused and calm, which aids in sleep, going out into the world, and feeling comfortable around other people.
The project also spotlights organizations at the forefront of this relatively new therapeutic method for veterans with invisible wounds such as PTSD and helps encourage its acceptance. For example, Mary Cortani of Gilroy-based Operation Freedom Paws has been key in partnering service dogs and veterans with PTSD.
What do you think about using service dogs to help veterans with PTSD? Join the discussion on Facebook and Twitter.
Vicki Topaz is a San Francisco-based photographer interested in cultural history and social change. She most recently worked on SILVER: A State of Mind, a series about women and aging in which she interviewed and photographed 52 women. This work was exhibited locally and sparked an international discussion through media coverage and social media on topics related to aging, health, workplace challenges, authenticity, and beauty. Her project, Silent Nests, which explores the remaining medieval colombiers (dovecots) of northwestern France, drew Topaz to that region for several years. Her first monograph, Silent Nests, published in 2009 by Kehrer Verlag, is the first photographic investigation into a little-known niche of France's rich cultural legacy. Topaz is a co-founder and former board member of PhotoAlliance, a non-profit organization dedicated to presenting contemporary photography in the San Francisco Bay Area.