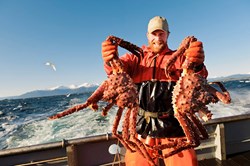 Juneau, Alaska (PRWEB) October 18, 2013
Today, October 18th 2013, marks the start of the 2013-2014 harvest season for Bristol Bay red king crab, Bristol Bay tanner crab, and Alaska Bering Sea snow crab, three legendary and sought-after varieties of seafood. Collectively these fisheries represent the most significant numbers in terms of Alaska's crab harvest.
The 2013 Total Allowable Catches (TACs), which are established yearly for each species to maintain maximum sustained yield and continued abundance, reflect the state's commitment to responsible fisheries management and the willingness of Alaska's managers to adjust their catch to align with the best scientific data available.

The 2013 TAC for Bristol Bay red king crab is set at 8.6 million pounds, representing a 9.5% increase from 2012.
The 2013 TAC for Bristol Bay Tanner crab is set at 3.1 million pounds. The fishery was closed in 2012 due to the mature female biomass falling below the required 21.9 million pounds.
The 2013 TAC for Alaska Bering Sea snow (opilio) crab is set at nearly 54 million pounds, representing a 19% decrease from 2012.
Smaller Alaska crab fisheries include Aleutian Island golden king crab, which opened on August 15th with a TAC of 6.29 million pounds, and Norton Sound red king crab, which ran from July 3rd to September 14th and had a total harvest of 391,863 pounds.
Alaska crab stocks are jointly managed by state and federal organizations: the Alaska Department of Fish and Game (ADFG) oversees conservation and management, while the North Pacific Fisheries Management Council (NPFMC) superintends allocation and policy.
Luxurious Alaska king crab is unmatched in size and is celebrated for its sweet flavor and rich, tender texture. Alaska snow crab is prized for its delicately sweet flavor, and tender, snow-white meat. For more information on wild, sustainable Alaska crab, including recipes and nutritional facts, please visit http://www.wildalaskaflavor.com.
About Alaska Seafood
The Alaska Seafood Marketing Institute (ASMI) is a partnership of the State of Alaska and the Alaska seafood industry. ASMI works to promote the benefits of wild and sustainable Alaska seafood and offer seafood industry education.
For more than 50 years, Alaska has been dedicated to sustainable seafood. It's so essential to our way of life that our constitution mandates that fish are "utilized, developed and maintained on the sustained yield principle." The seafood industry is Alaska's largest private sector employer, and as a result, Alaskans understand the need to protect the fisheries and surrounding habitats for future generations. We're proud of our leadership in sustainable management, which has led to an ever-replenishing supply of wild seafood for markets around the world. For more information, please visit http://www.alaskaseafood.org.