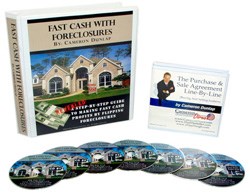 The training, proof of funds and transactional funding are only the primary pieces of this program. Investors also get support from my team. That's priceless
Campbell, NY (PRWEB) October 18, 2013
Cameron Dunlap, who is one of the nation's top foreclosure experts, has created a training program that reviews the necessary steps and procedures needed to flip a foreclosure for a profit. Until Fast Cash with Foreclosures was released, it was difficult for real estate investors to find the training needed to help home owners prevent foreclosure. Dealing with banks is a touchy process and needs to be approached in a specific manor if a profit is to be made.
Not only does this program provide the training real estate investors need to flip foreclosures, but it also provides the proof of funds needed to even make an offer. The proof of funds plays a crucial part in whether or not the investor can get the deal. All of these letters are backed up by Cameron himself, which means the credibility and funds will always be there. If needed, he will also send a verification deposit directly to the agent, seller, or bank asking for the proof of funds. "I've been in this business a long time," Cameron stated, "and I know how important proof of funds letters are. Investors will not be able to do deals without them."
Most real estate investors looking to work with foreclosed properties also do not have the funding needed to purchase the property out right. Foreclosures are so delicate. Cash is needed to do these deals without a doubt. Cameron provides transactional funding as part of Fast Cash with Foreclosures as well, so real estate investors don't have to worry about having the funds on hand.
Cameron also stated, "Right now is a great time to start investing in foreclosures too, the market is perfect. This program has everything needed to get started. The training, proof of funds and transactional funding are only the primary pieces of this program. Investors also get support from my team. That's priceless."
Cameron has built Fast Cash with Foreclosure with both beginning and experienced real estate investors in mind. Not all home owners have the means to avoid the foreclosure process and need help from investors with the knowledge and funds to help them. This program gives investors all that is needed to get a successful start in this business.
For more information or to get started with Cameron's Fast Cash with Foreclosures program today, visit http://www.camerondirect.com/getproof/