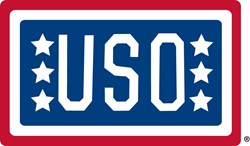 We've never been on a USO tour before and knowing that we will be performing for our military fans is an amazing feeling. - Kev Nish
Arlington, Va (PRWEB) October 18, 2013
Twitter Pitch: @fareastmovement shows troops love with first @the_USO tour
WHAT: USO tour featuring electro-pop band Far East Movement
WHEN: Oct. 20 – 25, 2013
WHERE: Japan
WHY: Since their song "Round, Round" landed on the soundtrack of the 2006 adrenaline-fueled big screen flick "The Fast and the Furious: Tokyo Drift," Far East Movement has been steadily breaking their way into the music industry and growing their fan base. This fall, the band will share their thanks and music with the men and women of our U.S. Armed Forces as part of a USO/Armed Forces Entertainment tour. The quartet, joined by emcee Big Boy and music mix master DJ E-Man, will perform three USO concerts for troops and military families in Japan. In addition to their performances, the group of artists will sign autographs, pose for photos and let our troops know that America is always by their side.
This will be the first USO tour experience for Far East Movement and the fourth for Big Boy and DJ E-Man. The radio powerhouses have been traveling on USO tours since 2008 and together have lifted the spirits of some 8,000 troops and military families serving in Kuwait, Iraq and Germany.
In 2010, Far East Movement made record-breaking history when their single "Like A G6" took the No. 1 spot on the Billboard Top 100 chart, making them the first Asian-American group to earn the top spot in the United States. They've collaborated on songs with industry icon Snoop Lion and pop star Justin Bieber, last month the band performed at the 2013 MTV World Stage Live in Malaysia concert alongside Robin Thicke, Exo and Joe Flizzow. Their latest album release "Dirty Bass," was recently certified gold.
Far East Movement is LA-based Kev Nish, Prohgress, J-Splif and DJ Virman.
QUOTES:
Attributed to Kev Nish:
"This is an exciting opportunity for us. We've never been on a USO tour before and knowing that we will be performing for our military fans is an amazing feeling. It's not something that you get to do everyday, but our troops deserve to hear everyday how much they are appreciated."
Attributed to DJ E-Man:
"Myself and Big Boy are excited to go back on tour with the USO and entertain our troops and their families abroad. It's been a great honor for us to be able to delver a piece of home, whether it is through music, humor or overall entertainment, to our troops. We are looking forward to sharing this memorable experience with Far East Movement."
For more than 70 years the USO has been by the side of our troops and their families. To learn more about the USO and how you can help, visit uso.org.
About the USO
The USO lifts the spirits of America's troops and their families millions of times each year at hundreds of places worldwide. We provide a touch of home through centers at airports and military bases in the U.S. and abroad, top quality entertainment and innovative programs and services. We also provide critical support to those who need us most, including forward-deployed troops, military families, wounded warriors and families of the fallen. The USO is a private, non-profit organization, not a government agency. Our programs and services are made possible by the American people, support of our corporate partners and the dedication of our volunteers and staff.
In addition to individual donors and corporate sponsors, the USO is supported by President's Circle Partners: American Airlines, AT&T, Clear Channel, The Coca-Cola Company, Grand Canyon University, jcpenney, Jeep, Kangaroo Express, Kroger, Lowe's, Northrop Grumman Corporation, Procter & Gamble and TriWest Healthcare Alliance and Worldwide Strategic Partners: BAE Systems, The Boeing Company, Lockheed Martin, Microsoft Corporation and TKS Telepost Kabel-Service Kaiserslautern GmbH & Co. KG. We are also supported through the United Way and Combined Federal Campaign (CFC-11381). To join us in this patriotic mission, and to learn more about the USO, please visit uso.org.
###