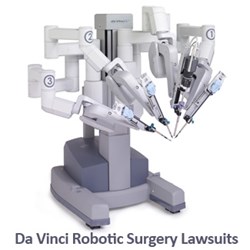 Contact Wright & Schulte LLC for a Free legal consultation regarding Da Vinci Robotic Surgery Complications and other Defective Medical Products at 1-800-395-0795 or www.yourlegalhelp.com
Columbus, OH (PRWEB) November 03, 2013
Bloomberg News is reporting that Intuitive Surgical, Inc. has been sued by one of its insurers for allegedly concealing Da Vinci robot lawsuits involving its Da Vinci Surgical System. The company reported in October that it had been named in at least 50 Da Vinci surgery lawsuits alleging injury and death due to the robotic surgery platform. In a complaint filed on October 21, 2013 in U.S. District Court, Northern District of California, the insurer claimed it was not informed that 25 Da Vinci lawsuits were pending against Intuitive when it issued the company a product liability insurance policy for the term of March 1, 2013 through March 1, 2014. (Illinois Union Insurance v. Intuitive Surgical, 13-cv-04863)
[bloomberg.com/news/2013-10-31/intuitive-surgical-insurer-alleges-legal-claims-hidden.html, Bloomberg News, October 31, 2013]
According to the lawsuit, potential policy holders are required to provide insurers with material facts regarding risk when they apply for coverage. Illinois Union claims that had it been made aware of the Da Vinci robot lawsuits during the application process, it would not have extended coverage to Intuitive Surgical. It seeks to have the policy rescinded.
According to Wright & Schulte LLC, controversy has surrounded the Da Vinci Surgical System in recent months, as questions about both its safety and effectiveness have continued to mount. In July, Intuitive Surgical received a warning letter from the U.S. Food & Drug Administration (FDA), after an inspection by the agency found problems with the way it reported patient injuries.
[bloomberg.com/news/2013-10-17/intuitive-s-profit-declines-on-lower-da-vinci-robot-sales.html, Bloomberg News, October 17, 2013]
[fda.gov/ICECI/EnforcementActions/WarningLetters/2013/ucm363260.htm, FDA, July 16, 2013]
Bloomberg News had previously reported that in the first eight months of this year, there had been a sharp rise in Da Vinci robot complication reports to the FDA. For its part, Intuitive Surgical said in that the growing litigation surrounding the robot was responsible for the increase, as any Da Vinci surgery complications alleged in the claims were required to be reported to the FDA. In January, the FDA began to survey doctors who use the Da Vinci to determine if the increase in adverse event reports reflected a problem with the technology itself.
[bloomberg.com/news/2013-10-17/intuitive-s-profit-declines-on-lower-da-vinci-robot-sales.html, Bloomberg News, October 17, 2013]
Wright & Schulte LLC has heard from numerous individuals who have allegedly suffered serious Da Vinci robot complications, and expects that the litigation surrounding the device will continue to grow. The Firm is now offering free Da Vinci lawsuit consultations to anyone who may have suffered tears and burns of the intestines, torn blood vessels, excessive bleeding, infections, punctured or cut ureters, damaged bowels, or vaginal cuff dehiscence during Da Vinci surgery. For more information on filing a Da Vinci surgical robot lawsuit, or to arrange for a free legal consultation, please visit yourlegalhelp.com.
About Wright & Schulte LLC
Wright & Schulte LLC, an experienced personal injury firm, is dedicated to the belief that America's legal system should work for the people. Every day, the attorneys of Wright & Schulte LLC stand up for the rights of people who have been injured or wronged and fight tirelessly to ensure that even the world's most powerful corporations take responsibility for their actions. If you're looking for a law firm that will guarantee the aggressive and personal representation you deserve, please do not hesitate to contact Wright & Schulte LLC today. Free case evaluations are available through yourlegalhelp.com or by calling 1-800-399-0795.
Contact:
Wright & Schulte LLC
812 East National Road
Vandalia, Ohio 45377
1-800-399-0795
http://www.yourlegalhelp.com