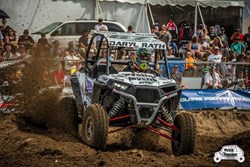 Minneapolis, MN (PRWEB) October 19, 2013
Fans of Mystik Lubricants Terracross Championship are invited to come out and visit the Terracross booth at the Wheels of Thunder All Motor Sports Show this coming October 18-20. Fans can check out Terracross competition vehicles in the display booth and meet the people who run the circuit.
Joe Duncan, Terracross Sport Organizer is excited about the scale of this show. He said, "this is the first of its kind, spectators and fans of all motorsports will be in a dream world this weekend! We can't wait to be a part of it."
The Wheels of Thunder All Motor Sports Show, which is being held at the Minneapolis Convention Center in downtown Minneapolis, will feature a host of motorsports personalities and displays including Winter X Games gold medalist Levi LaVallee, Dennis "Grave Digger" Anderson and World of Outlaws driver Craig Dollansky. The show opens Friday at 2-9PM and runs from 10AM-10PM Saturday and 10AM-4PM Sunday. Tickets are $14 for adults and $6 for kids 12 and under. For more information, visit http://www.wheelsofthunderallmotorsportsshow.com.