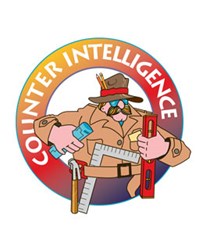 Technology plays an important role in our company, but what really drives us, are customers. Our philosophy here really wraps around constant improvement, and with this embedded into everything we do, really allow us to create a better customer experience
Silver Spring, Maryland (PRWEB) October 18, 2013
Counter Intelligence - or CI as many loyal customers like to call it – was delighted to announce today that they are launching a completely new website in which emphasis has been placed into helping families accomplish their ultimate home space dreams through affordable yet luxurious kitchen remodeling.
CI is one of the few kitchen remodeling companies in Maryland and Virginia that has a state-of-the-art facility that produces over fifty five kitchen countertops every day, and completes over twenty five full kitchen and bathroom remodeling projects every month. "Technology does play an important role in our company, but what really drives us, are customers. Our philosophy here really wraps around constant improvement, and with this embedded into everything we do, really allow us to create a better customer experience," says John – owner of Counter Intelligence.
CI is certainly not new to home improvement projects. John himself started building kitchen cabinets and fabricating solid surface countertops back in his high school days. Counter Intelligence was born in 1986 with a strong mission to go out and help millions of customers reach their goals of simply "enjoying their living space to the max", said John. Although millions are still not part of their record, they have already helped over one hundred and forty thousand home owners realize this dream in Washington DC, Northern Virginia, Maryland, Delaware and now New York. "The number of satisfied customers is growing every day for us, and that's something we are extremely proud of among everything else that we have been able to accomplish. Earning their trust is essential for us as a home improvement company," said Phil – Sales Manager at Counter Intelligence.
Kitchen remodeling has been on an upward trend during the past couple of years as America slowly recovers from the recession that hit rock bottom back in 2008. The difficulty level of these projects vary tremendously from one project to the next, and CI places a strong emphasis on making sure everything is planned correctly and executed in such manner. "I believe we understand better than anyone how hard it is for any home owner to coordinate all the different aspects of any home improvement project, so we spend a lot of time polishing and improving the logistics of every step in the process," said Ted from CI.
You can reach Counter Intelligence by visiting their website at http://www.cicounters.com or by calling their main office at 301-715-3876.