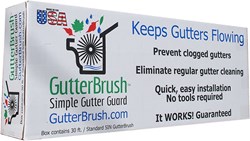 Newport, RI (PRWEB) October 18, 2013
The falling leaves of autumn can do major damage to a home's gutter system. On a recent segment of Wake Up with Al, Lou Manfredini of House Smarts appeared on the show to educate homeowners on how cleaning gutters can be dangerous and shared ways that homeowners can keep their gutters free from leaves and debris with GutterBrush.
View the segment at http://www.youtube.com/watch?v=jhIltEskRfs&feature=em-upload_owner.
About GutterBrush
GutterBrush is a family-owned and operated business that began after Bob Schreiber discovered while camping at his cabin, that an old twisted wire brush in a storage area came in handy when performing the tedious task of cleaning out the gutter. As luck would have it, the brush was accidentally left in the gutter where it remained until he visited the cabin again a year later. He realized that while the rest of the gutters were a mess, the area where he left the brush was clean from debris. That is how GutterBrush was born. In 2004 "GutterBrush" was first introduced to the public primarily through a grassroots effort in both Ohio and Rhode Island. GutterBrush is now available to customers across the country. GutterBrush has been recommended by National Home Improvement Experts and Radio Hosts such as Gary Sullivan, The Money Pit, Money Magazine and HGTV! Learn more at http://www.GutterBrush.com.