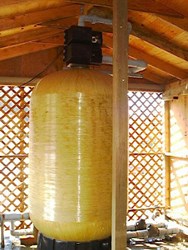 Santa Cruz, California (PRWEB) October 19, 2013
Sand, sediment and turbidity in well water is a widespread problem affecting thousands of wells around the world. Well or spring water can be loaded with sediment, clogging valves, fixtures, and irrigation systems and ruining water heaters and appliances.
Although sediment cartridge filters are widely available at hardware stores, these filters are often poorly sized or use the wrong type of filter for the type of sediment that is in the water. The result is often pressure drop, reduced flow rate and frequent maintenance.
Millions of families and businesses worldwide depend on high quality water from their water wells. Private ground water wells can provide clean, safe, potable water. However, well water can also become contaminated and full odors, leading to disease and illness. It is the responsibility of well owners to maintain and treat their well water when problems arise.
The Complete Guide to Removing Sediment from Well Water covers the main types of sediment and turbidity filters that are most useful for well, spring and rainwater systems:

Spin-down filter strainers & Y-strainers
Centrifugal sand separators
Cartridge filter systems
Back-washing media filters
Ultra-Filtration (UF) membrane systems
Whole House Water Filtration Systems
Flocculation, Coagulation and Filtration
The new updated guide is packed with easy-to-read, fascinating yet critical information that no well owner should be without. It explains how to identify the source of well water quality problems based on identifying the type of sediment and includes a comprehensive chart on how to identify the source and cause of the sediment.
How to identify sediment
How to determine flow rate
Water chemistry and analysis
Sub-micron turbidity treatment
Clean Water Systems & Stores Inc specializes in water treatment systems for contaminated well water in North America and has over 8000 customers in over 30 countries. The company provides custom easy-to-install whole house water treatment systems and commercial filtration plants in a large variety of different types and configurations including systems for removing iron, manganese, sand, odors, bacteria, turbidity and sediment.