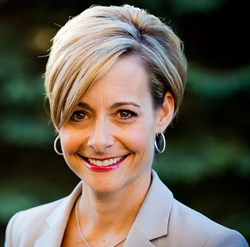 We have a tremendous opportunity to improve an individual's quality of life and that of their family.
Highlands Ranch, Colorado (PRWEB) October 18, 2013
Dr. Julie Prutsman of Sound Relief Hearing Center, Colorado's premier provider of hearing and tinnitus services, has joined forces with the Colorado Gerontological Society in Make A Difference Day which will be held on October 26, 2013. Sound Relief Hearing Center has committed to providing a senior in need of hearing testing and hearing aids free of charge. This is the first time the audiology practice has participated in Make A Difference Day.
For more than 20 years, USA WEEKEND Magazine and Points of Light have joined together to sponsor Make A Difference Day, the largest national day of community service. Make A Difference Day is a celebration of neighbors helping neighbors. Millions of volunteers from around the world will unite in a common mission to improve the lives of others on Make A Difference Day, Saturday, October 26, 2013.
"I am passionate about improving people's lives through better hearing," said Dr. Julie Prutsman. "We truly have an opportunity to make a big difference in an individual's quality of life and that of their family."
Sound Relief Hearing Center is participating in one of thousands of projects are planned each year involving corporations, communities, nonprofit organizations, entire states and individuals. Many of the 250 HandsOn Network affiliates lead projects across the nation.
The stories told around Make A Difference Day show that anyone - regardless of age, location or resources - can accomplish amazing things when they take on the problems they see in their community. Recognizing the power of Make A Difference Day, other organizations join with USA WEEKEND and Points of Light each year to inspire and recognize the valuable work of volunteers.
The candidate will be chosen by the Colorado Gerontological Society from the waiting list for their Hearing Aid grant program. Through a grant from the Denver Regional Council of Governments and supported by community donations, CGS administers the Senior Answers and Services Hearing Program to provide limited financial assistance to Denver metro area seniors. This program is funded under the federal Older Americans Act (OAA) and the state Older Coloradoans Fund.
About Sound Relief Hearing Center
Sound Relief Hearing Center is a family-owned-and-operated audiology practice with a rich family history in the hearing health industry. Representing the family's second and third generation respectively, this mother/daughter team of hearing professionals has a combined 45 years of experience in providing the best possible hearing care to Colorado. With offices in Centennial and Highlands Ranch, Sound Relief Hearing Center offers a full range of diagnostic and preventative hearing health services, including tinnitus testing and treatment, hearing screening, evaluations, hearing aid sales, and rehabilitative and preventative counseling. For more information, visit http://www.YourEarDoc.com.