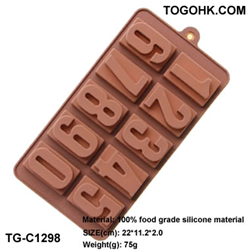 (PRWEB) October 18, 2013
Recently, TOGOHK.com, a renowned supplier of various silicone molds, has released its new designs of numbers silicone chocolate molds and announced a special offer on these items. All new items are available at discounted prices, up to 30% off; the special offer will last until October 30, 2013.
"We are very excited to announce the new range of numbers silicone chocolate molds. We have confidence in our fresh products. They will surely satisfy the various needs and requirements of customers worldwide. Each of them is of top quality," the CEO of the company states.
"We have extensive experience in the industry. We aim to create practical products that can help clients improve working efficiency." He adds, "We insist on our basic idea of helping customers live better. All our staffs are now working together to make our company a world-class silicone mold supplier. All our items are offered exclusively on our online shop http://www.togohk.com/ ."
TOGOHK.com specializes in making all kinds of molds, such as silicone molds, silicone cases, silicone tubes, silicone bracelets, silicone seals, silicone kitchen utensils and so on. All products from the company are promised to comply with a strict quality management. The new range of numbers silicone chocolate molds is no exception.
About TOGOHK.com
Founded in 2003, TOGOHK has developed into a modern company that offers its customers worldwide a one-stop silicone product solution from conception to delivery. With high technology engineering and advanced CAD and CAM, the company has been serving more than 3000 customers from over 70 countries.
For more information about the business, please visit their website at: http://www.togohk.com/?gallery=silicone-chocolate-mould