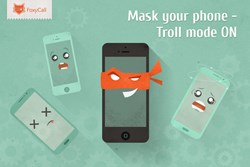 FoxyCall gives away 5 free test calls.
(PRWEB) October 22, 2013
It appears as though there is nothing surprising modern technology can do anymore: people already use their phone as a computer, watch movies at home in 3D, find all kinds of information on the Internet. Things like impersonating a stranger's phone number seemed unlikely to be possible. Now it turns out things have changed – with the new internet service FoxyCall anyone can make a call from someone's personal phone number with no effort at all.
As strange as it may sound, it's no longer a privilege of the special services and such calls are entirely legal as long as they are not used for fraud or blackmail. Most of the time people use FoxyCall to prank their friends, check whether their spouses cheat, hide their true phone number, or make a call with a familiar number after they've had their regular phone lost or stolen.
FoxyCall experience begins with simple registration, no extra hardware or software is needed. Registered users can start calling and writing text messages right from their personal account page. It's required to submit the number to call and the number to be identified as. The "callback" service will first make a call on the registered number and after that connect it to the other party. The person on the other line will see the "fake" number that was submitted or a corresponding contact from the contact list.
Now, the service that makes it possible to call and text using fake phone numbers is available to everyone , regardless of the phone model or service provider. Neither mobile nor landline numbers are safe. The calling price ranges from 10 to 20 cents for a minute of talk time.
FoxyCall gives away 5 free test calls. The service is also equipped with a well thought-through interface and a few "extras" that include modifying one's voice and adding background noise (e.g. noise of an airport or a night club). Every prank call can be recorded and shared on Facebook.
During the beta launch some journalists expressed their fear that FoxyCall.com can become a regular curse. Basically, with a service like that no one can ever be a hundred percent sure that the call they are receiving is from the true owner of the number that shows up on the screen. Did a man just receive a call from his mistress, or was that his wife trying to test him? Is the CEO really calling his accountant about an urgent money transfer or is it a scam of some sort?
The malicious potential of the service caused an uproar among Apple employees and they have prohibited the app from being listed in the AppStore. Developers, however, insist that FoxyCall is completely harmless and is fully protected from being used for crime.
Thanks to its desktop platform the service can be used on any phone. Following the Android version, the iOS version will soon be ready and available for download in the Cydia Store.
With FoxyCall on the market, people need to be cautious when answering a call – chances are the call is coming from someone trying to prank the owner by being identified as a person from the contact list!