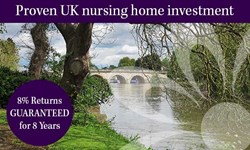 Willowfield Nursing Home offers a great chance to invest in an expanding and robust market, and is expected to sell out fast.
Poole, UK (PRWEB UK) 20 October 2013
With the Office of Fair Trading predicting demand for care homes is likely to increase 60% by 2023, Select Resorts Properties are pleased to announce the brand new opportunity to invest in the fully operational Willowfield Nursing Home in the fantastic location of Maidenhead, UK.
The UK care industry has seen a massive influx of investment over recent years, with banks and lending institutions eager to lend within the industry due to long-term, robust and lower income streams it offers. With a growing ageing population, the need for good care homes which meet all European Union regulatory requirements, are very much in demand. Therefore it is anticipated the nursing home, which houses only 20 rooms will sell out in a matter of weeks.
Managing Director Pauline Bonanni has commented on the opportunity;
"We're very excited to promote Willowfield Nursing Home with such fantastic terms. It offers a great chance to invest in an expanding and robust market and as we've enjoyed such success with a previous, similar development we're expecting the units to sell out fast."
Select Resorts Properties are pleased to offer exclusive terms to investors wishing to purchase through them, including 8% guaranteed returns for 8 years. Rooms are available for purchase for just £75,000 utilising the 0% developer finance option, making this a very affordable and profitable investment.
Contact Select Resorts Properties today to find out more about Willowfield Nursing Home.
About Select Resorts Properties
Anyone looking to invest funds into property should contact Select Resorts Properties. With over 30 years' experience in the industry, the dedicated and passionate team offer the service one would expect from a company giving expert advice on a vast range of property investment areas to assist in reaching more profound decisions on purchasing and investing in property and land.
All projects offered for sale via Select Resorts Properties have undergone a full and thorough due diligence process, ensuring buyers are able to purchase with confidence and security.